My Fangirl experience at the events below (check back for more panel posts!)
I have posters & other goodies to give away from these panel discussions.
Charlize Theron & Kristen Stewart
Want to win the WonderCon Swag?!
(Details at the bottom of this post)
Universal Pictures will present footage and special guests from two of its upcoming epic action-adventures:
Battleship
(May 18) and
Snow White and the Huntsman
(June 1).
Battleship
director/producer
Peter Berg
will be joined by two of the star's from the film,
Alexander Skarsgård
and
Brooklyn Decker,
to discuss the project.
Snow White and the Huntsman
's director,
Rupert Sanders,
will answer questions about the new movie starring
Kristen Stewart, Charlize Theron
,
Chris Hemsworth and Sam Claflin.
Open Road Films: Lockout—
Global exclusive! Be among the first in the world to see footage of the highly anticipated new film,
Lockout
. Starring Guy Pearce (
Memento, The King's Speech,
upcoming
Prometheus
) and
Maggie Grace
(
Taken, Taken 2, The Twilight Saga: Breaking Dawn,
Parts 1 & 2). Set in the near future,
Lockout
follows a falsely convicted ex-government agent (Pearce), whose one chance at obtaining freedom lies in the dangerous mission of rescuing the President's daughter (Grace) from rioting convicts at an outer space maximum security prison.
Lockout
was directed by James Mather and Stephen Saint Leger from their script, co-written with Luc Besson, who is also a producer. Peter Stormare co-stars.
Kristen Stewart Snow White and the Huntsman Panel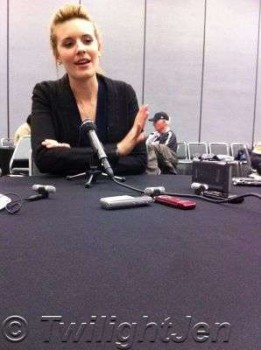 Maggie Grace "Lockout" Panel
Alexander Skarsgard "Battleship" Panel
Maggie Grace's Lockout
Snow White and the Huntsman Panel (it was a bit crowded)
Battleship Panel #1
Battleship Panel #2
Want to win the WonderCon Swag?!
To win this
Dexter Landyard & The Tower Chronicles Pin!
Leave a Comment below (with a way to contact you)
That will get you exactly 1 entry
Gain 1 addition entry for EACH of the following
1. Follow this Blog
2. Follow TwilightJen on Twitter
3. Follow TwilightPack Blog
4. Follow TwilightPack Twitter
We will put your name in a bowl and draw out a winner from it!
The more entries the better you chances to win! (5 total possible!)
Contest ends on April 29th!
Thank you & Good luck to all!