My Encounter at the Black Carpet with a Real Angry Raven at the "The Raven"
Los Angeles
premiere
.
The day starts in the wrong location. (thank gawd for google) At 7am I arrive to the Historic Los Angeles Theatre losangelestheatre only to find it locked up tight, no one in sight but the homeless.
I snapped a few photos and decided to head over to The Grove for John Cusack's Event at The Grove. thegrovela (Note in the PrePremiere Photos v/s the post premiere photos. Changes to the marque sign)
Driving to The Grove had a fan-girl moment with the next two pics. You Twilight fans will understand.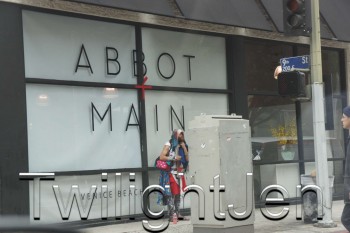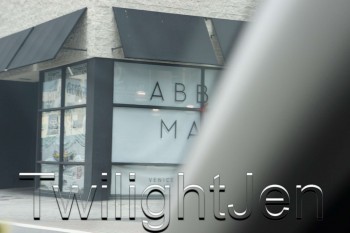 I arrive at The Grove at 10 am after some waffles. While waiting for the 1:30pm appearance of John Cusack I head over to the set of the Extra! Tv show to scope out the details for later. I find Mario Lopez hamming it up for the cameras.
I'm told by the camera crew that John Cusack does not want a public interview at The Grove and he was going to have his interview at Mixology (A bar that doesn't open till 5pm inside the Grove)
So over to Mixology I go to stalk the entrances & exits for the next 5 hours.
That Black car below holds Ricky Lake who was arriving at the Grove to do a Book signing but I was on a mission and just let her pass without chasing her like a lawyer after an ambulance.
Below are random photos of The Grove. I had to do something for the 5 hrs I was there.
This is one set of two stairs that go up to the Mixology lounge which is the second venue for the show Extra for stars that don't want to have fans around to harass them during interview. So here I stood chatting with the slow trickle of paps that show also there to snag photos of John Cusack.
Well when John arrived, he sneaked in (of course) at the other set of stairs and no one even got a photo including the experienced paps. He ran his SUV up on the curb and ran up the stairs before we could run to the other set of stairs, so after that excitement, we all waited another hour for the return of said SUV. The SUV arrived at these stairs, driver got out and opened back door. 15 mins later the driver got back into the SUV and drove around the back of Mixology with 50 of us fans indeed chasing after it just like those lawyers mentioned above!
According to reports John Cusack chatted with "Extra's" Renee Bargh about losing 25 pounds to play poet Edgar Allan Poe in his upcoming movie, "The Raven." John also talked about the possibility of making a sequel to "Say Anything." I had no idea what they talked about at the time but by the time my 40 yr old tail ran to the back of this bar John had come out of that red fence in the photo below and started signing the maybe 5 autographs he signed before escaping to the safety of his SUV. I was one of the lucky ones to get an autograph.
Focus Camera FOCUS! Ooops maybe not THAT much camera! (He is signing my autograph right there)
Escaped, safe and sound!
OMG, look at his hand on that SUV, Looks as pale as Edward! I knew it! Vampire sighting!!
Ok there this is the autograph I barely got from John Cusack at the Grove, you can tell his heart isn't in it. If you look close there is a long "J" on the leg in the photo. No "C" that normaly comes with the "J" in his autograph but maybe next time.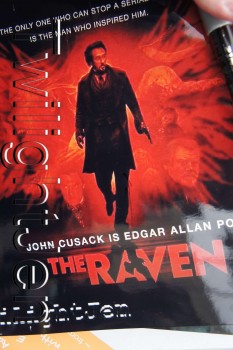 whew! Now back to the Historic Los Angeles Theatre to see if they have started preparing for the movie premiere.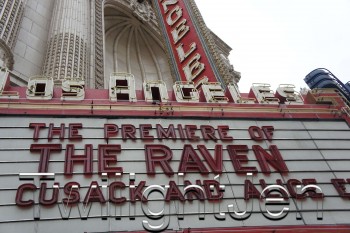 So I arrive back to the Premiere at 3pm. There are four people in line and the gates are unlocked. A few deep fried Twinkies (Wishing another encounter with Woody) later, I take a few photos as they bring out more props.
Around 4pm they bring out these crosses and start to decorate the outside for the premiere.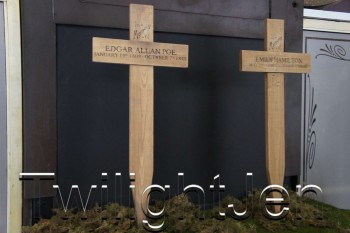 More interesting photos. About 5pm, a dude with a very old and very tall latter changed the sign. I wonder why???
6:30pm comes and goes without any sign of any stars. That was the advertised time for the premiere. (Thinking ohhh crap my downtown parking lot closes at 8pm, this is not going to be good. I have to work tomorrow. Gona be ruff trying to get the car out of the tow yard before hand) Sign
7:15pm OMG a blacked out car arrives! Finally! Now begins an hour of mayhem!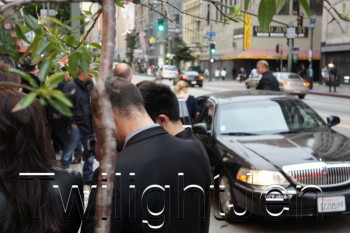 Who is that? Move Tree! Move!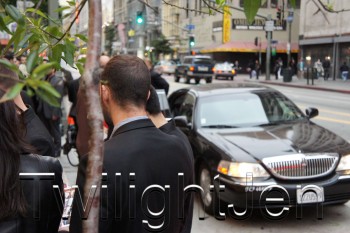 Believe it or not, I am at the front the caged fan area.
BTW This security team is the SAME team that did the Hunger Games Premiere.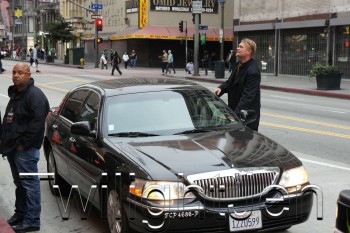 *Waves trying to make friends with the unfriendlys* It doesn't work.
More blacked out cars and no one recognizes anyone that gets out.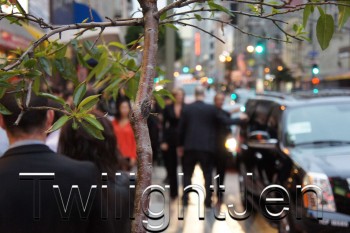 OMG I'd know that Bald Head Anywhere.
I start screaming "JAMES! JAMMMMMES, PLEASE SIGN FOR MY SON!"
OMG Focus Camera! (BTW this time I am not taking photos, I'm just doing autographs)
Yep, I'm still screaming for James to come to me! JAMES!!!! JAMES!!!!!
Yes Security gets concerned and starts looking at the mother of the year.
Haha you will not stop this mother, just pay attention to the car arriving behind you dorks!
Luke Evans arrives there in the fuzzy gray suit, Him and James embrace while I continue my wales for JAMES to SIGN for MY SON!!! (Getting a bit hysterical at this point thinking he is going to ignore us)
This is James still working my My Boys autograph and ignoring others shoving items to sign to finish his first. *Awww I'm a fan now for life* Thank you James.
Hi Luke, in this pic he is reaching in to take my marker. Yeah. I love my spot in the fan cage.
Rumor has it that he is going to be in the Hobbit. Going from Zeus to a Hobbit film? Wonder how that feels?
Oh Hi again James!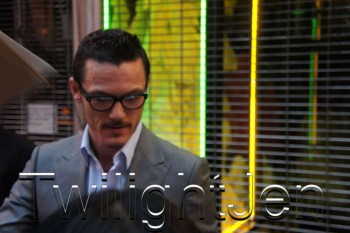 Hi there Zeus, I mean Luke.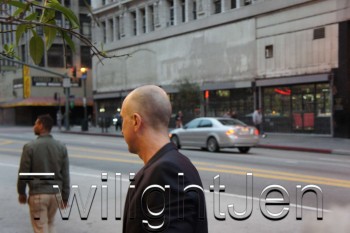 Don't be afraid of my hair Luke, its amazing I know, You can look at its fluffiness.
The lop sided mouth in the background likes to throw hissy fits like a two year old. #ImJustSayin
Luke signing for me. So nice. Thanks!
Luke handing me back my marker. Again very nice! Thanks, Like our hands in that pic.
Here is Luke Evens autograph & Yes this will be a Contest Prize! I know I know, I'm amazing, right?
Another one of Lukes' autographs, He signed several times for me.
Tons of people start showing but no one coming to sign for us. (Augh)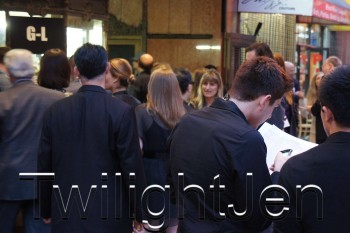 TWILIGHT MOMENT! WHO IS THAT? Catherine Hardwicke
With a very Rosalie hair-flip Catherine ignores our screams to come sign. Oh well, good to see you.
One thing about this premiere, they did not close the street so random people are walking down the sidewalk during the entire black carpet. (Quite funny)
OMG Is that John! I just chased your SUV hrs ago! JOHN! JOHN! Stop hugging folks and come here!
Smile John, we fans are not that awful, its' not like we stalk or chase your cars around town!
Is that an almost smile?
FOCUS CAMERA FOCUS!
Is it gona really kill you to smile?
The hair is rather fluffier from The Grove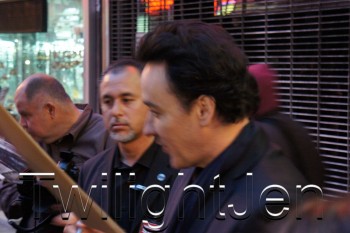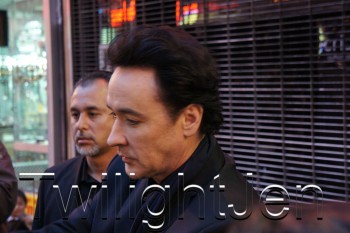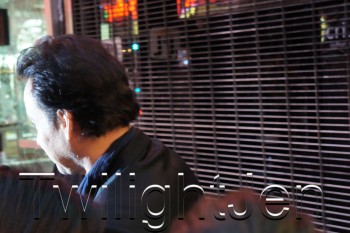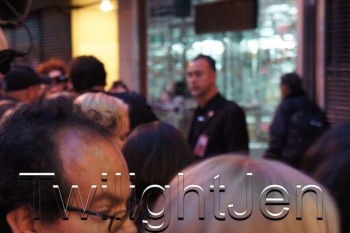 Here is what John's autograph is supposed to look like when his heart is in it. We got no smiles but he did sigh for a lot of us. I did get multiple this time.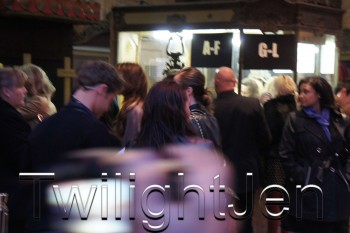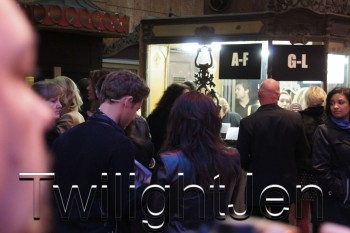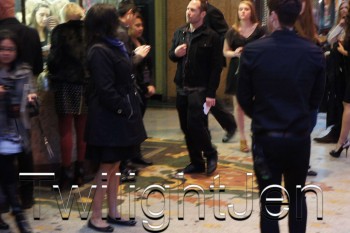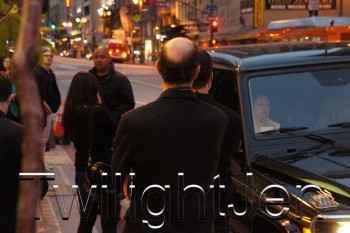 Alice Eve is that you in that larger than life blacked out thingy Alice Eve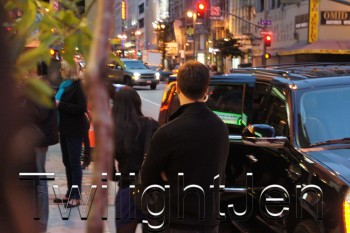 OOops to my left pops up Sam Hazeldine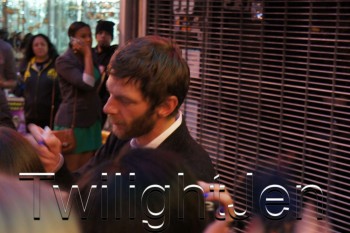 Hi Sam Hazeldine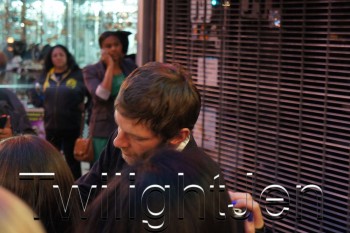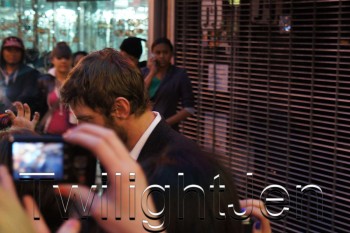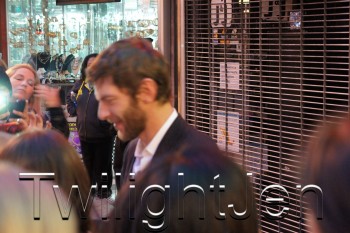 Yeah, he knows how to smile!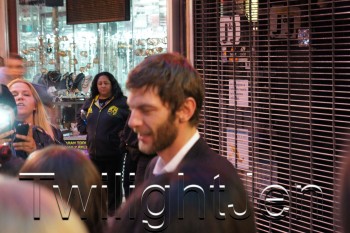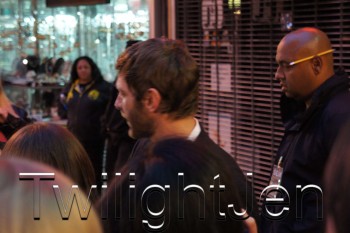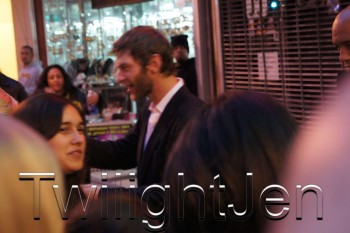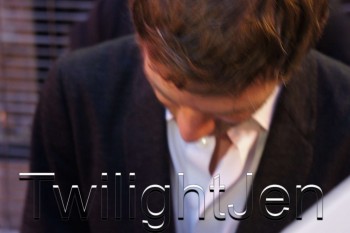 Signing my photos! Thank you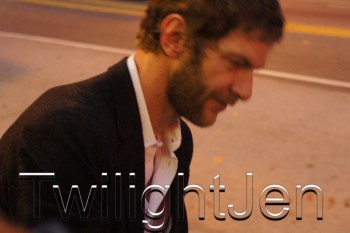 Nice autograph Sam Hazeldine!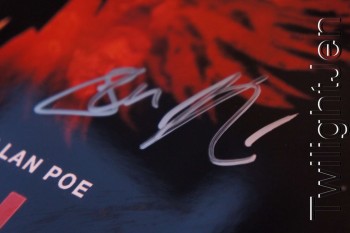 Alice Eve's autograph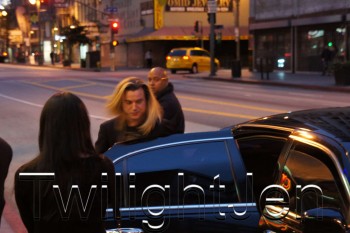 *Fabio want to be?* No clue who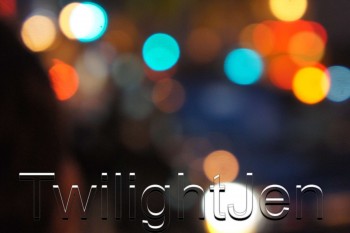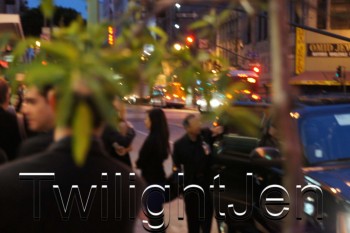 There she is, Alice pretty in black.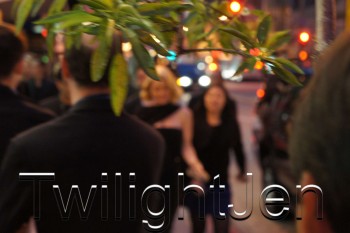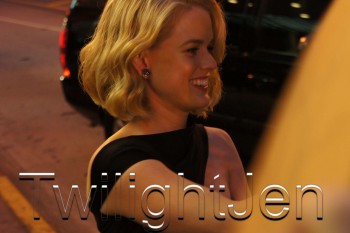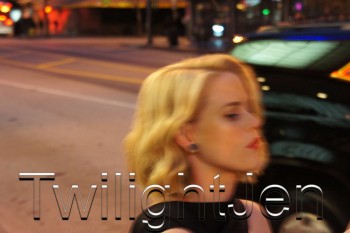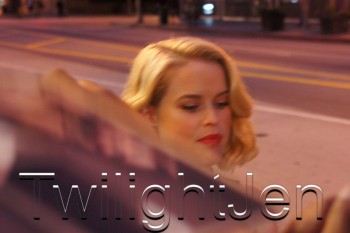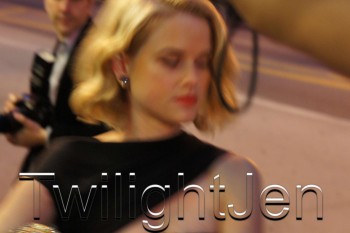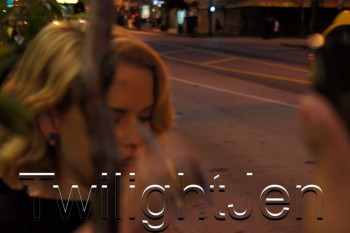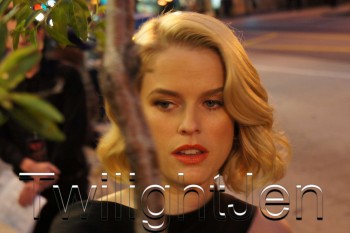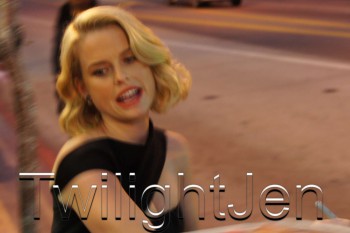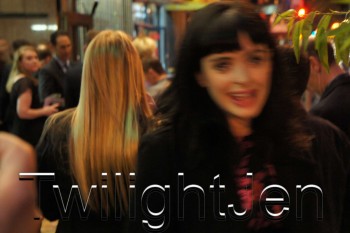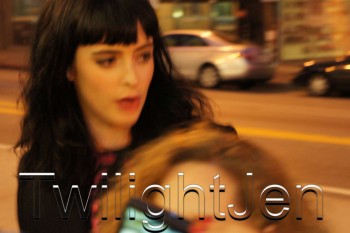 Krysten Ritter is not in the movie but she is showing support for her friend who is and did come over to see us fans. See my fluffy hair mixes with her black slick hair.
Krysten Ritter wore her glossy black tresses in soft waves with short bangs at the premiere of 'The Raven.'
Looks like the camera is tired and has decided at the end to not focus on anyone thing.
Moving on to the black carpet inside
That is my stuff in this left bottom corner.
Yes, that is one #AngryRaven! Even John Cusack tweet pics of him biting others~
Contest Time
That will get you exactly 1 entry
Gain 1 addition entry for EACH of the following
1. Follow this Blog TwilightJen-friendconnect
2. Follow TwilightJen on Twitter
3. Follow TwilightPack Blog


4. Follow

TwilightPack Twitter
We will put your name in a bowl and draw out a winner from it!
The more entries the better you chances to win! (5 total possible!)

Contest ends on June 14th
I am giving away One of John's, Alice, Sam & Luke's autographs.
So four winners
Each winner getting one actors autograph
Good Luck all!
Tweet me if you have any questions!
TwilightJen
Please share this blog with your friends
All the autographs are on the same size photo. I just manipulated them into this one photo.
Below are a few shaky vids I took that night, be careful and you might want to turn the volume down.