CONTEST AT THE END OF THIS BLOG AT COMMENTS!
This fan-girl gets up on a Saturday morning at 2am. My hair is fluffy and I'm ready to leave my house at 4am. I arrive at 5:00am. $28 parking can only be found at the nearby 5 star hotel. Travel time from my house used $40 gas.
After finding parking and huffing it up the prized steps into the Westfield mall, I am greeted by a Westfield security lady who informs me to go to the bridge. With a gloved hand she begins to point and instruct where this bridge is. "To the left. Just keep taking lefts at each block corner until you see the bridge."
So returning back down those steps I thought about all morning long, I follow the instructions given to me by the Westfield security and I make my first, second then third left where I have an encounter with a disheveled homeless man and his shopping cart of goodies screaming that I am going to hell. "Don't you understand, You are going to Hell!" at the top of his lungs. This is about 5:15 am. I pretend I am invisible and keep walking, only faster now till I turn the next corner and see "The Bridge". This bridge is filled with hundreds of people looking down this long block as I walk up-to, under and to the right to find the steps onto this bridge. (Such a lovely morning so far and it only gets better from here, right? It has too)
My Twilight Convention girlfriends arriving at 7:30 am, after breakfast and a nice night of sleep, are allowed into the mall before US and able to form a line inside the mall-- instead of being herded to the overpass bridge! Police show up, and I'm not talking about the Chief Swan type I'm talking about LAPD-move-along-nothing-to see-here-batton-slapping-fresh-from-ocuppy-the-street-LA-crowd control- type all huffy about us even being ON the bridge in the first place. The Bridge is off the mall property, owned by the city and we should NOT be in this area without permits!! We were just trying to get a ticket to see a Q&A and possibly get an autograph, we didn't put ourselves on the bridge! The Mall Security and Lionsgate herded us mothers, daughters, sons, and friends to this bridge!
(My blogger girlfriend arrived at 1a.m. got onto mall property & waited by Microsoft door and was given wristband for meet & greet) Follow the rules Don't follow the rules?

Once inside mall with Twilight friends we make our way through
this 1100 sq ft caged area (Nothing but blacktop & sun) up to front gate where stage is being setup. Stand "butt to boob" with Tweens fighting for first spot at stage. By this time its 10:30 am. (Remember no breakfast-sunny California and I'm in a cage standing "butt to boob" with strangers)
(One side note, this location does not have any public bathrooms at all until the mall opens which is 11 am)
Representatives of both Lionsgate & Westfield mall say "Okay, Stand right there till 6:30pm. You can leave our cage but if you do, you can only leave for an hour and you have to take a "hallpass" to leave and you do lose your spot in-front of the stage when you do leave. (Gets better) Oh and we only have a limited number of hall passes."
Then they bring in the
port-a-pottys
to our cage. Which even if you did use, you lose your spot you fought for in front of the stage. (Keep in mind we are in 1100 sq ft and they just brought in 6 port-a-potty's into our living room)
Oh and by-the-way, the 100 who were picked to get meet and greet (the ones who arrived yesterday for this event) will be placed in-front of you in this area that you think is the stage and so will the press.
So standing in my third row back from the front of the staging area (that really wasn't third row by the time press and vips arrive) still "Butt to Boobs" the event planners pass out mini posters and say they are going to have dance contests, trivia and ect...and all I can think is THEY want me to stand in this one spot for next 10 hours (Blood sugar dropping to below zero & getting sunburn) for a Q & A that I will not be able to see even with my zoom lens sony camera after I already spent 8 hours just getting to this point in the day.........Who the "Cuss de cuss" do they think they are!? I'll watch the Q & A on Youtube if I ever get so inclined.
I have attended a great number of fan events around LA, Hollywood including Vegas,
never, ever have i been treated in this manner, but this was my first Lionsgate ran event.
I have seen a lot of talk on the web saying "Oh it was the Mall security that handled this event, bla bla"
My observation on site was of a Lionsgate Rep at 5:30 a.m.on the bridge directing Westfield Mall security
My Photo of Lionsgate Representative at 5:30 am on the said BRIDGE directing security!!
*Smile Lionsgate this is your event*








The rest of the photos taken & Videos from that lovely morning are posted below.
See this is me trying to get into Microsoft side of Mall at 5 a.m. only to be told to walk to bridge 20 mins away and round 6 city blocks















This is my photo of my walk into our cage. My observation. Small area. No bigger than my house. Lionsgate and Westfield mall advertising "First 1000 get this, First 1000 Come on down ect" The setting up of cameras on tri-pods on mall roof 15 feet above our heads. Forcing 1000 "Tweens & Fandom fans" into a small area, get them screaming and jumping around pushed in tight together over Movie Posters and Trinkets for next 10 hours. Not allowing them to even spend money in the mall. Forcing them if they do leave to be back in an hour for next 10 hours. ((Can we say Publicity stunt for free Promo shots to promote your upcoming movie so that more Presale tickets will be sold???)) Kids online thinking while watching on twitter and facebook the "Pretend massive crowd all in a frenzy all day long over the Hunger Games fandom event are thinking OMG I have to see this movie, look at all those people my age there and having a great time, the movie must be worth it. *Kid dashing to living room* Dad I have to have tickets now!! They are going to be sold out!"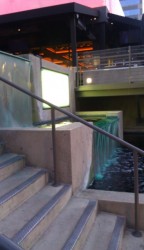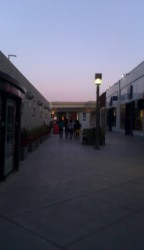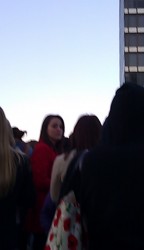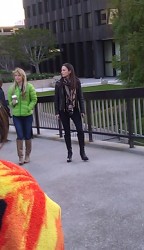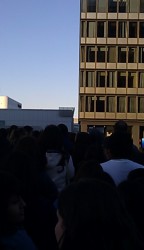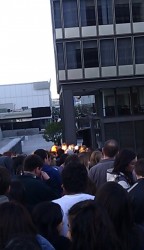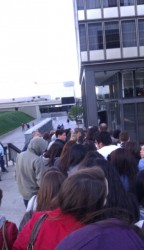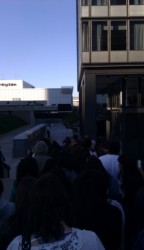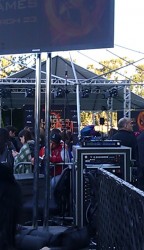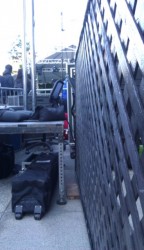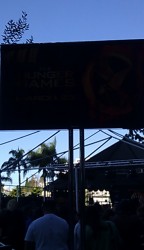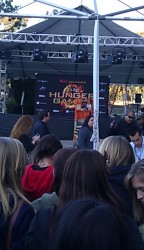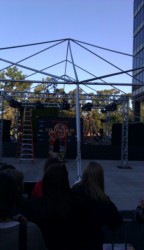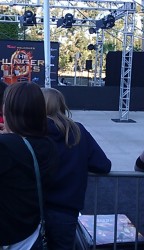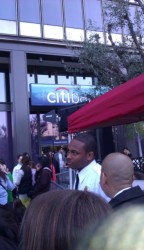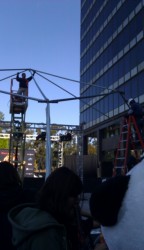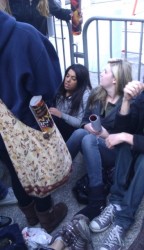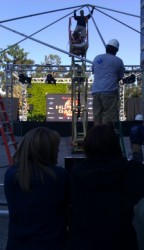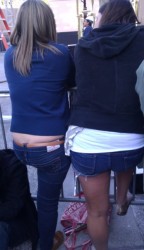 (If you can not tell from the above read, I did not get to see any of these stars nor did I get any autographs at this event)
BTW
The Q & A lasted 18 mins!
I wanted to link to a few of the fan concerns that were posted on the Westfield facebook page but they have all been deleted. The only posts left are the RSVP's
Follow the rules Don't follow the rules? What would you do or have done?
Also,
do you think Lionsgate is prepared for the Twilight Breaking Dawn Part 2 Premiere?
Contest Time
Make sure to follow this blog & Please Leave a comment about how you feel below to enter to win a prize.
Please Follow http://twilightpack.blogspot.com/ blog
Follow my Twitter at @TwilightJen
Winners will be chosen by @TwilightPack
(So please follow them too)
Contest ends on March 29th
Thank you & Good luck to all!
Win the People's Hunger Games magazine with Willow's autograph in it & a "Down with the Capitol" Key Chain!
This autograph I obtained in TentCity at HungerGames Premiere event (I suffered to obtain this so please only enter if you will protect & adore this prize)
PrimRose Everdeen played by Willow Shields

Two winners
One prize winner will win the People's Magazine & a key chain
One prize winner will win key chain
I do ship Overseas, Just please provide a proper mailing address so postage is not wasted.