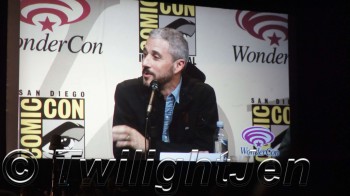 Director Marc WebbThe Amazing Spider-Man—The Amazing Spider-Man is back on the big screen, shot in 3D for the first time, and will be swinging into your neighborhood on July 3, 2012. Director Marc Webb and star Emma Stone appear live at WonderCon to give you your Spidey fix! For the fans who haven't seen it, here is your chance to see the eight minutes of footage that the filmmakers recently presented in a 13-city global launch event.
Contest Time
Leave a Comment below (with a way to contact you)
That will get you exactly 1 entry
Gain 1 addition entry for EACH of the following
1. Follow this Blog TwilightJen-friendconnect
2. Follow TwilightJen on Twitter
3. Follow TwilightPack Blog


4. Follow

TwilightPack Twitter
We will put your name in a bowl and draw out a winner from it!
The more entries the better you chances to win! (5 total possible!)

Contest ends on May 15th
The Prize is a large Police Wanted Poster I was given at WonderCon after the Event.
The photo does it no justice.
Please share this blog with your friends & Good Luck to all!