I told her that I was two hrs one way away from LA but sure, I had a couch she could sleep on and a doggie bed for the Wolf.
Sunday the 4th arrives and I drive the five hour round trip to LA to pick up the wolf and his agent. (Since they had no rental car) They take shelter in my home for the next three days while I work and prepare for TentCity on Thursday 11-08. With their flight back to Canada on Weds the 7th, I causally suggest the Wolf should stay for the Premiere so the Agent happily agrees and cancels his plane ticket home and leaves him with me.
Photos of
Brandon
hanging out in "VictomVille Mall in Cali dressed all in Red. This wolf is brave!"
Weds the 7th, we drive the Agent to LongBeach, CA another five hour round trip and she heads back to Canada.
Thursday the 8th I work till 1pm then head home to gather up the Wolf for our trip to Tent City. We arrive at the Ritz hotel on Flower street to check in and find our room has been upgraded to a suite at no extra charge.
We head over to Nokia to wait in a three hour line to find a tent spot. While in this three hour line, we order pizza to be delivered on the street corner and
Brandon Peters
started signing autographs right away. Fans were excited to see a cast member from the movie.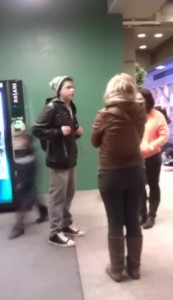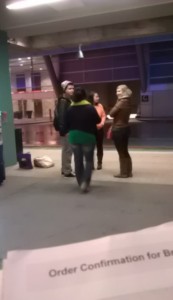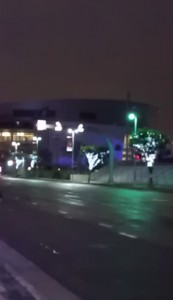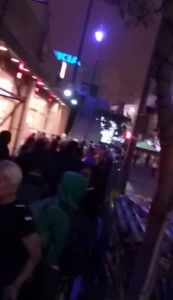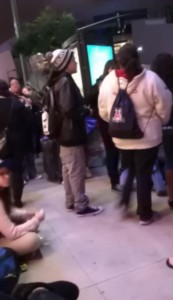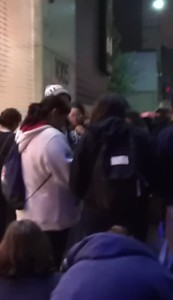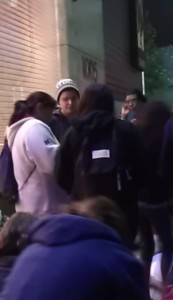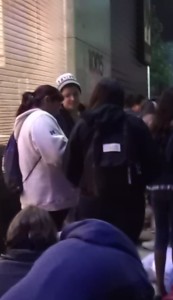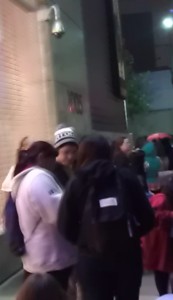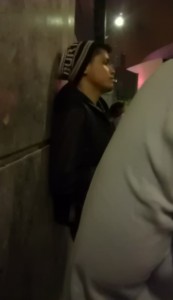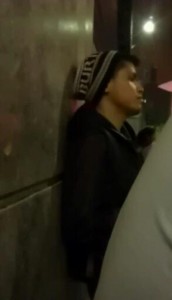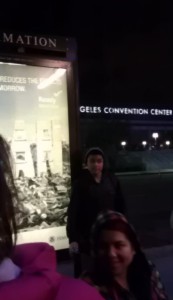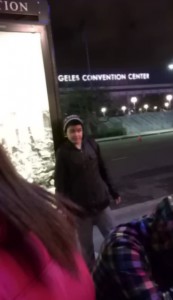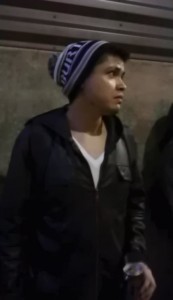 Finally we get our spot on the Nokia plaza which I know will not last. I send Brandon back to the nice Hotel Suite for a restful night while I shiver on the cold concrete of the LA Street.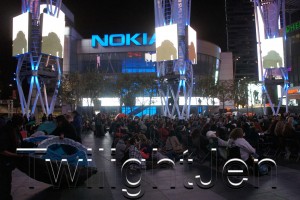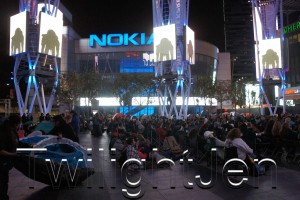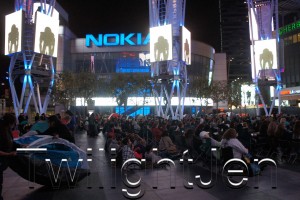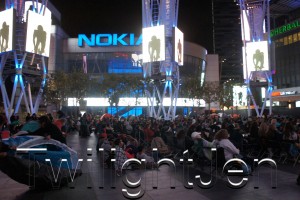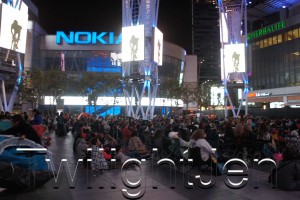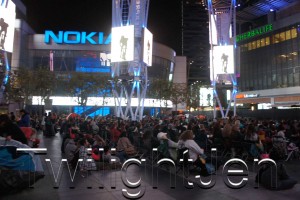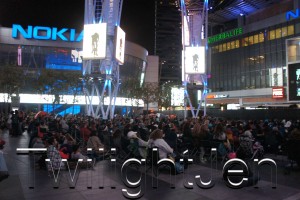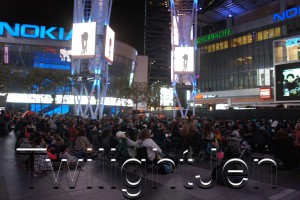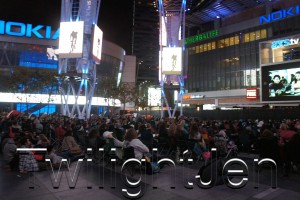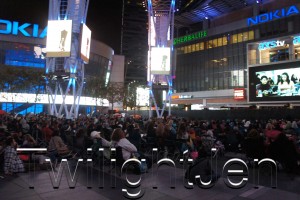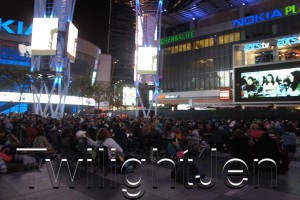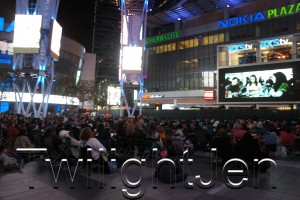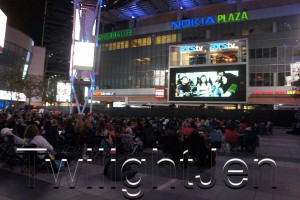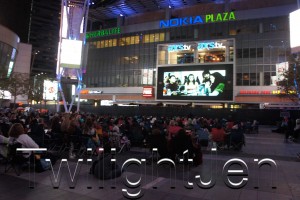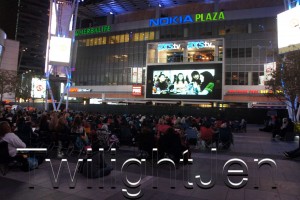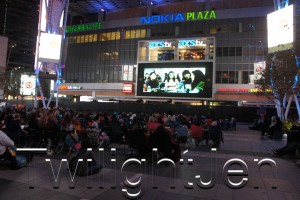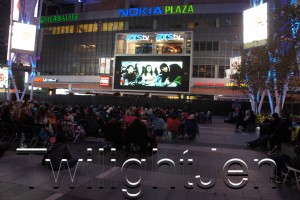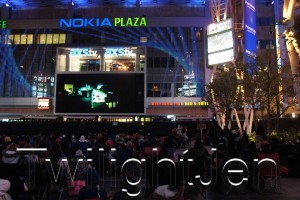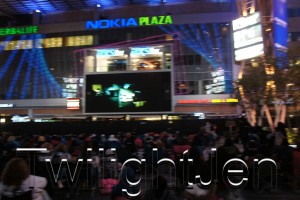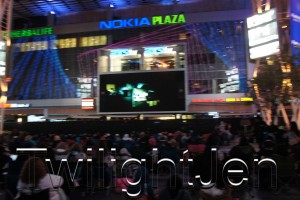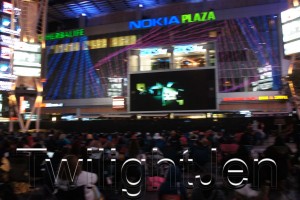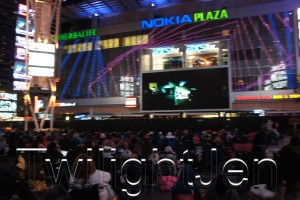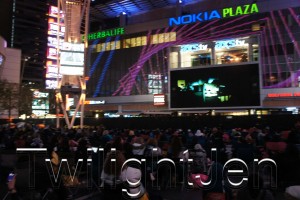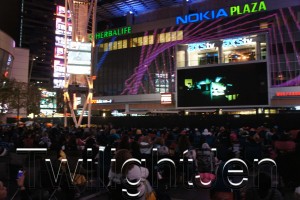 Meanwhile, the Wolf decides to do a fundraiser to return the good karma that LA has provided him. His is at his first movie premiere which happens to be the largest movie premiere this year.
So Brandon spent his day outside Nokia going to the printer, meeting with organizers and setting up the fundraiser account. We used his Still from BreakingDawn Part 2 and his photo a teacher in highschool made of Brandon.
http://breaking.dawnpart2.com/category/brandon-peters/
http://twilightpack.blogspot.com/2012/11/alex-merez-and-brandon-peters-plus-tent.html
Saturday we get Brandon a Nokia Talent access wristband right as Nikki Reed is on stage singing her Twilight Saga Song.
After Nikki's song, I join Brandon for some introductions to all the Tent City fans.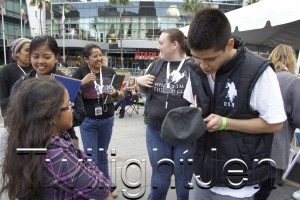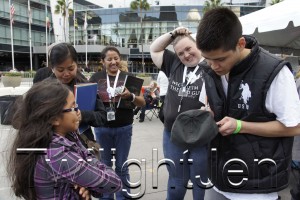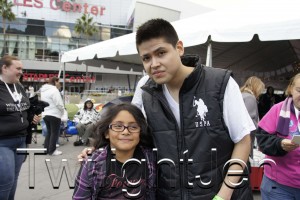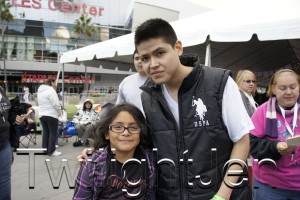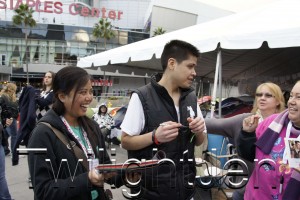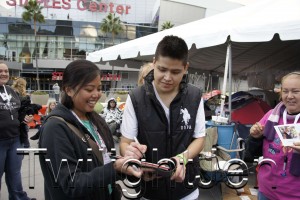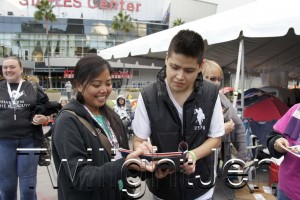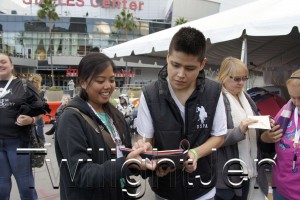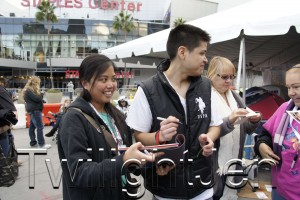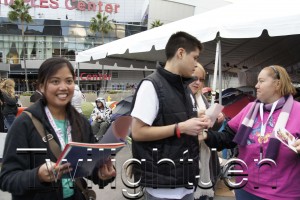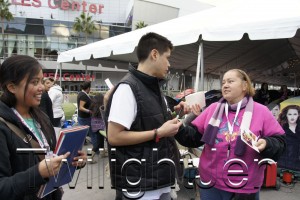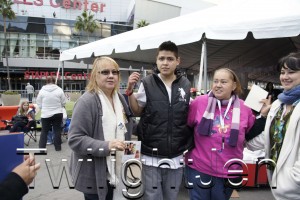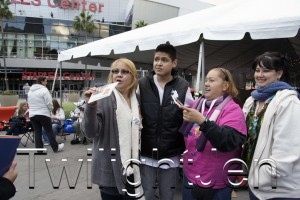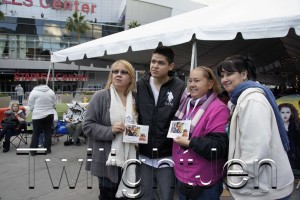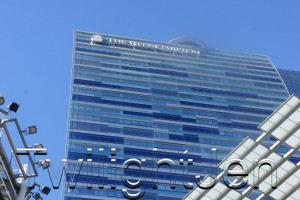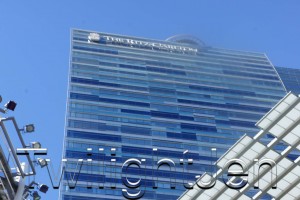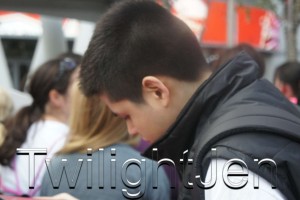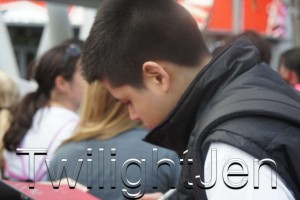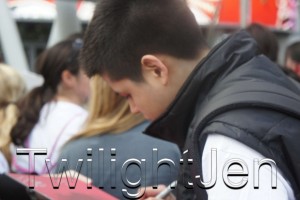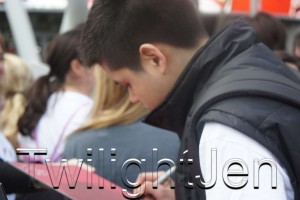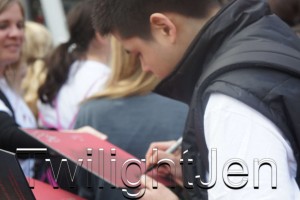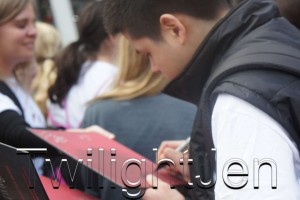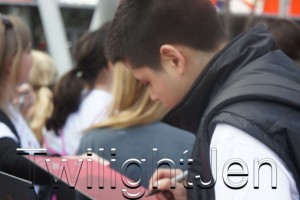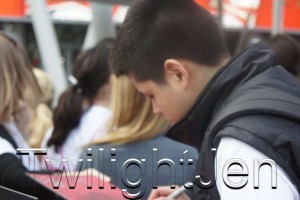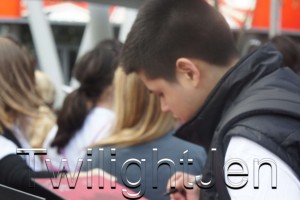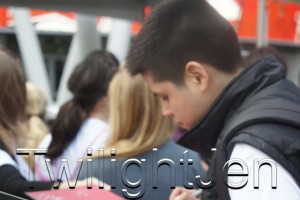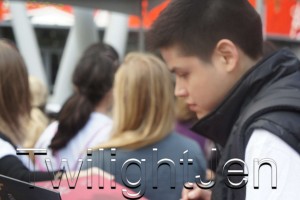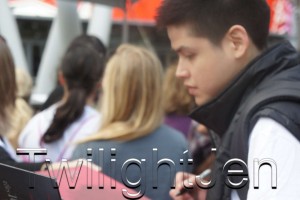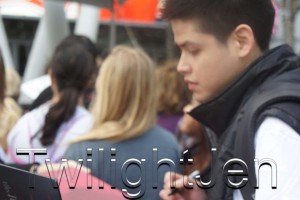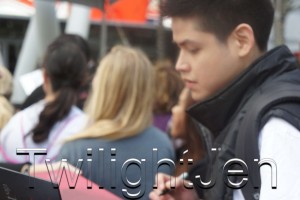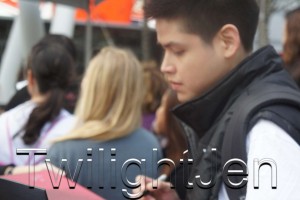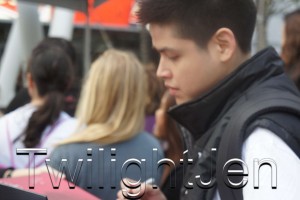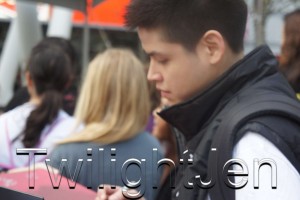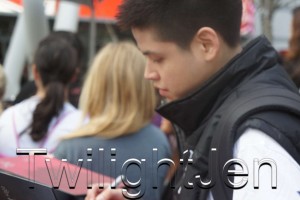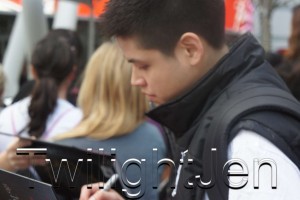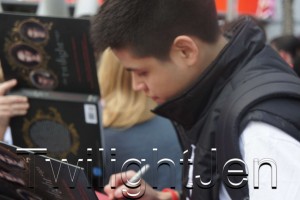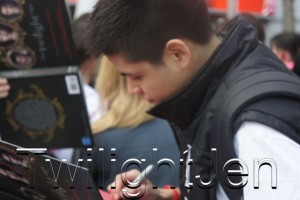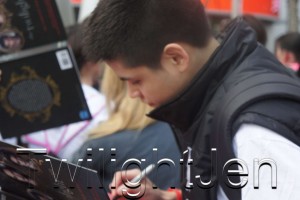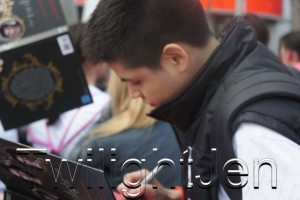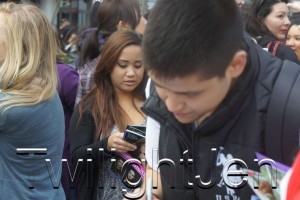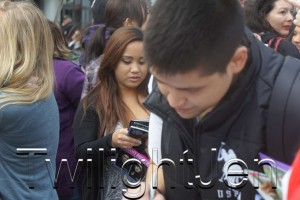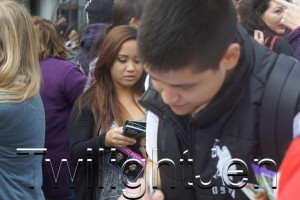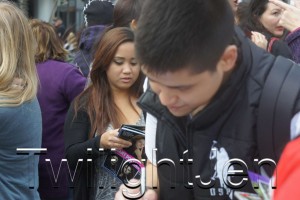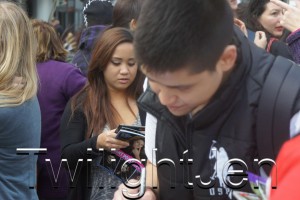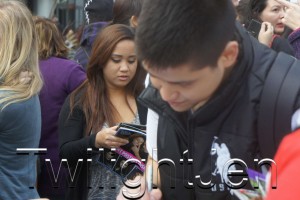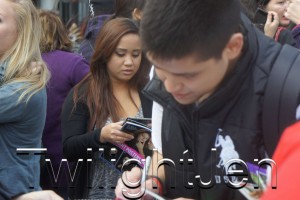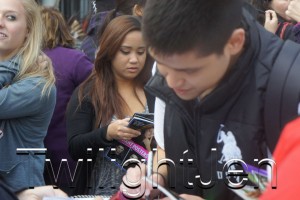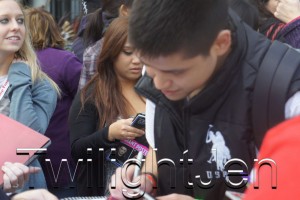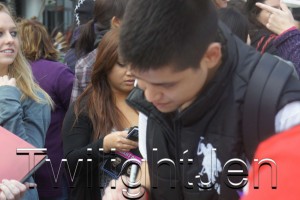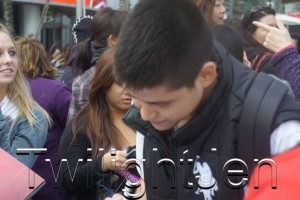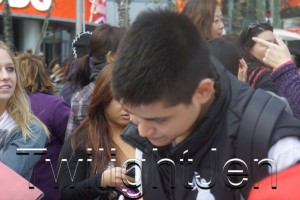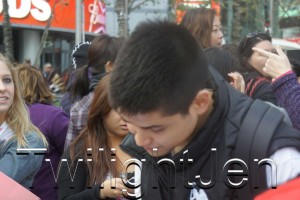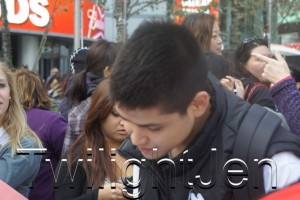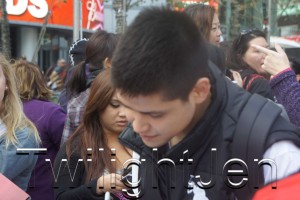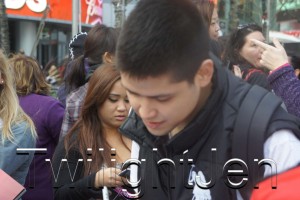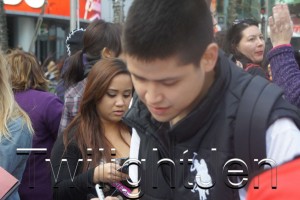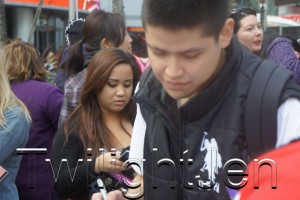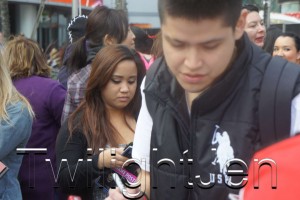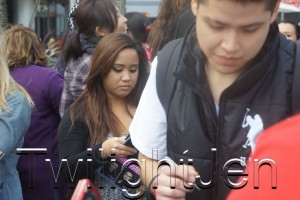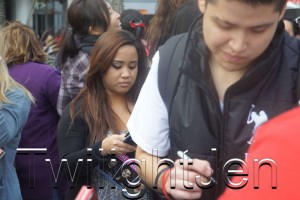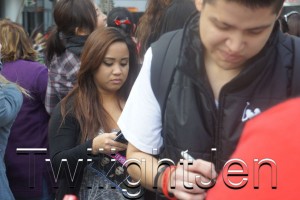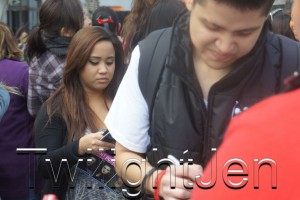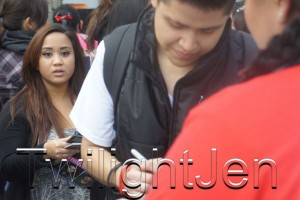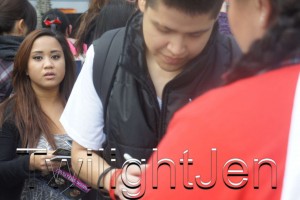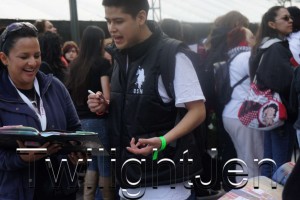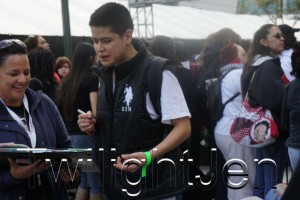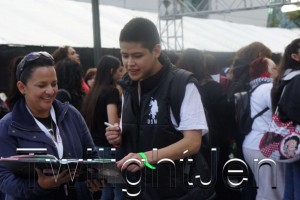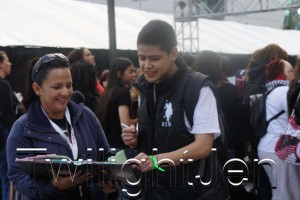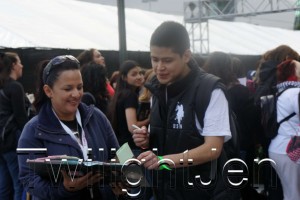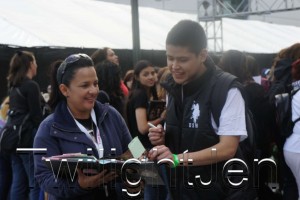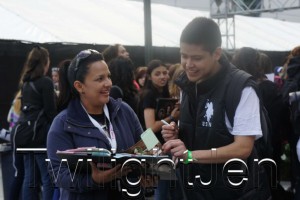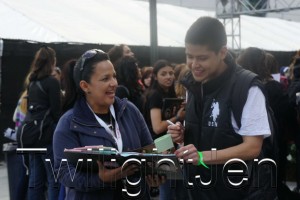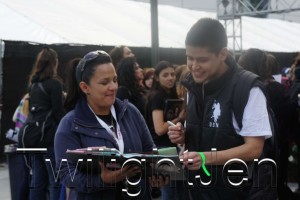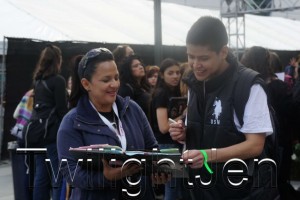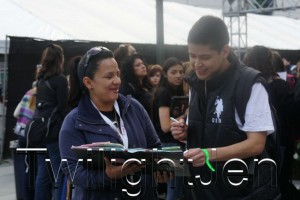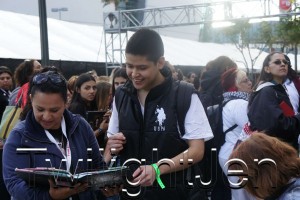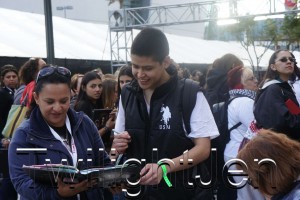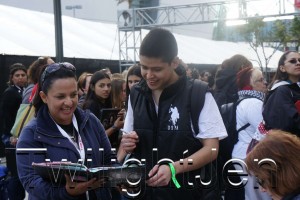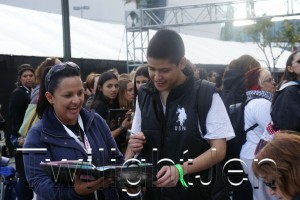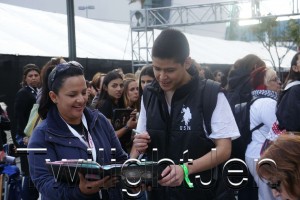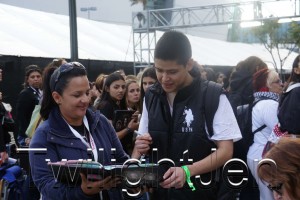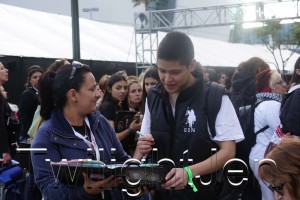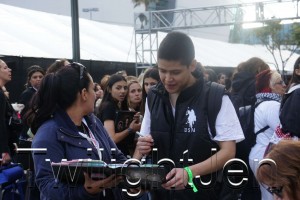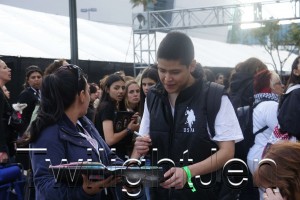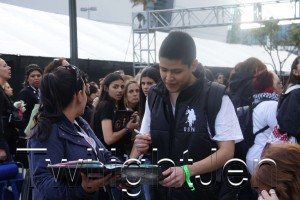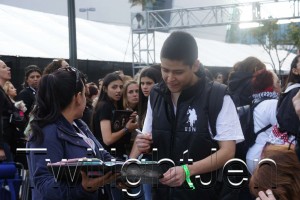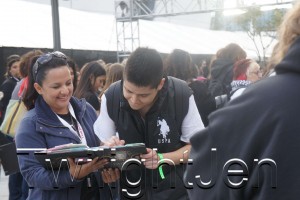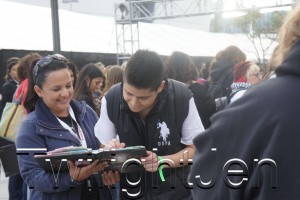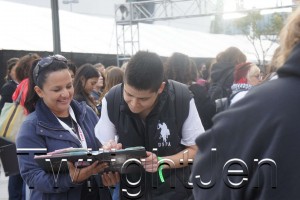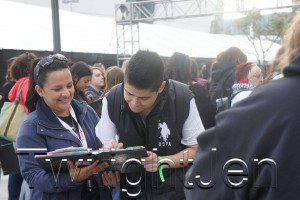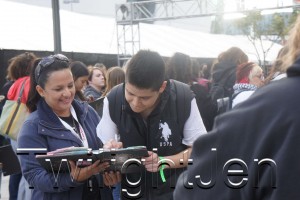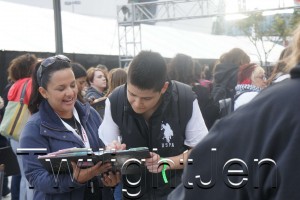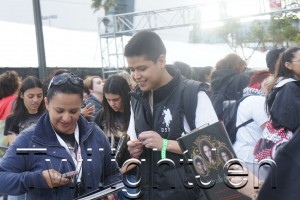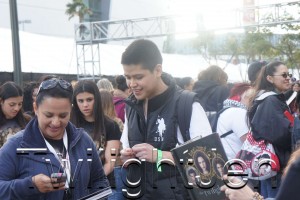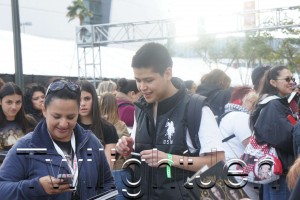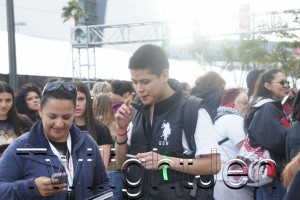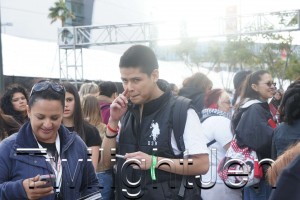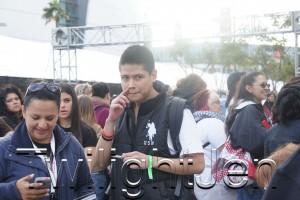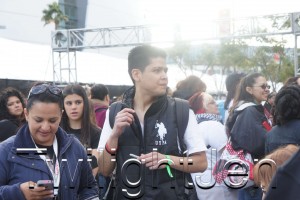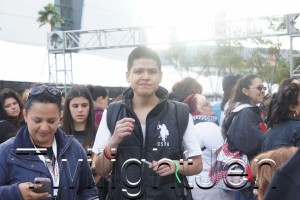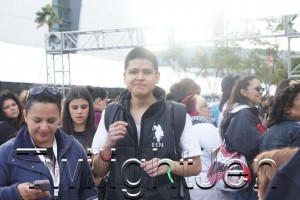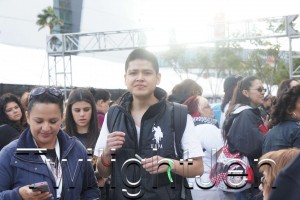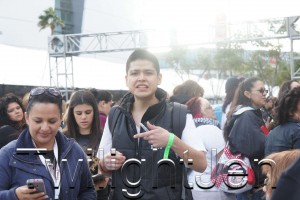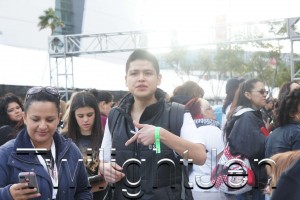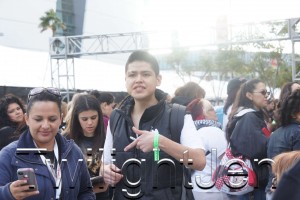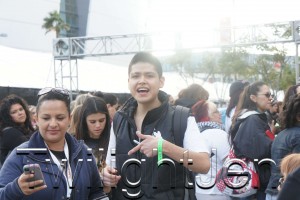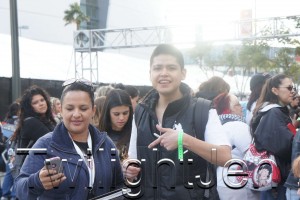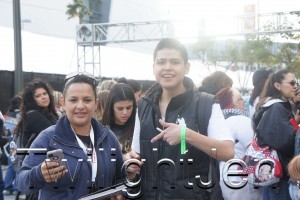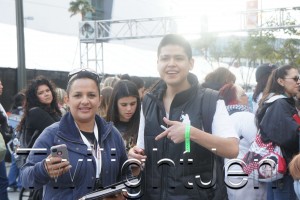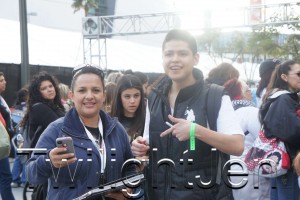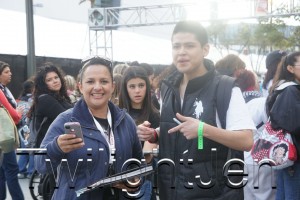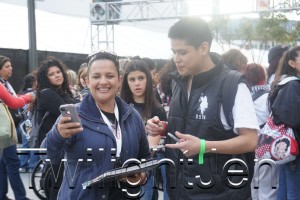 If things couldn't get better
Mel Jones
won a trivia question contest at Tent City and she won dinner with Stephenie Meyers and she took me along. OMG! 2 hrs sitting next to HER was amazing!
(We all look like we are ready for The Host movie set, right!!!)
At this dinner is where I found out that Brandon's wolf was to have a white patch over his eye to represent his scar Brandon has over his right eye. Stephenie told me she insisted on the extra cgi for his wolf.
How cool is that!
I have a contest on my facebook related to this photo. Win some swag I obtained from my dinner with Stephenie Meyers
http://www.facebook.com/TwiTwitterCovenTT
I saw the YahooMovies reporter and I let her know a star from the Breaking Dawn Part 2 movie was there and she jumped onto the chance to interview Brandon. This was also on Saturday.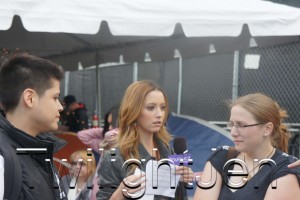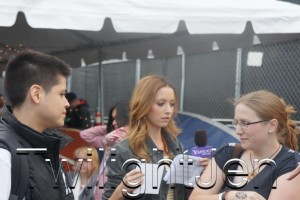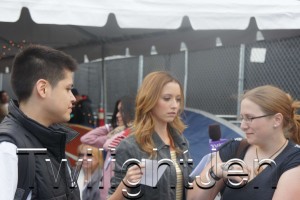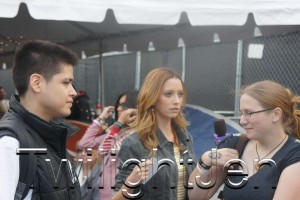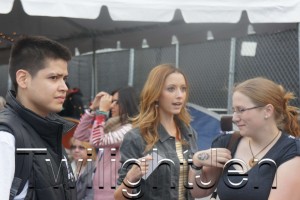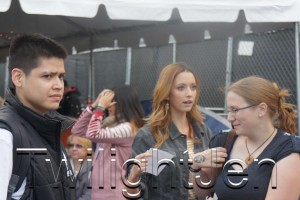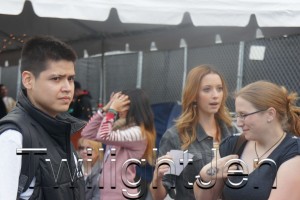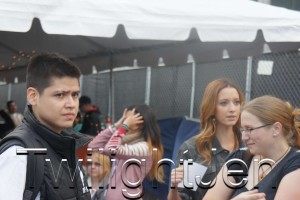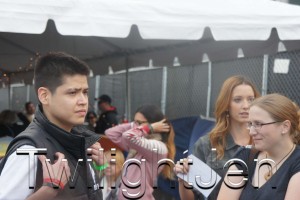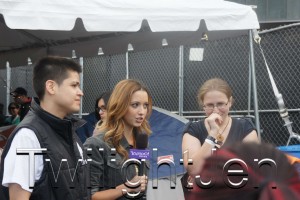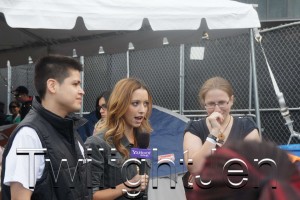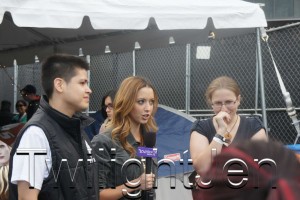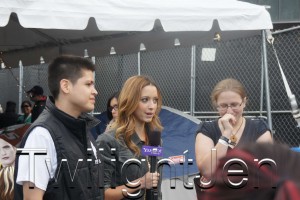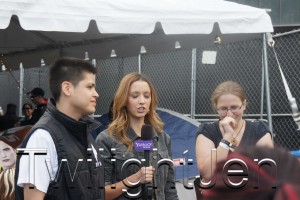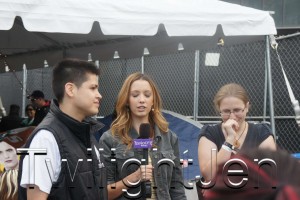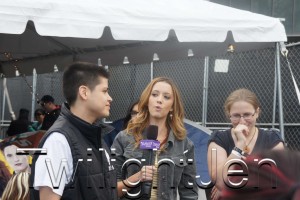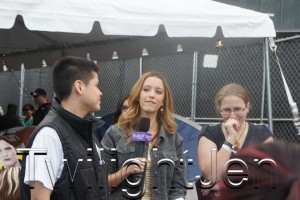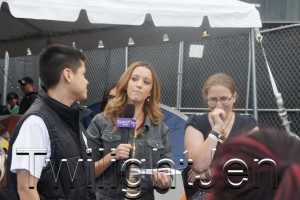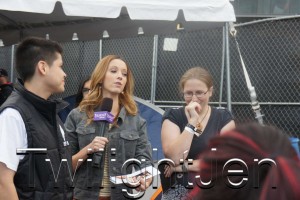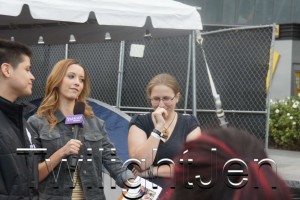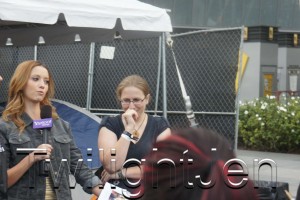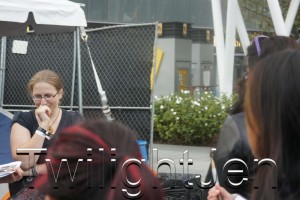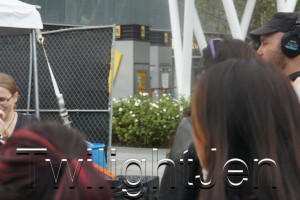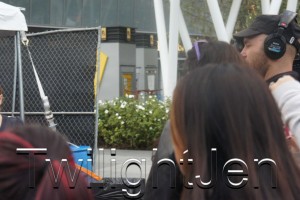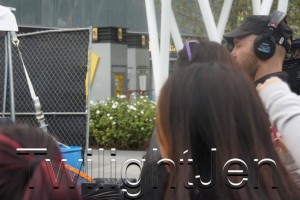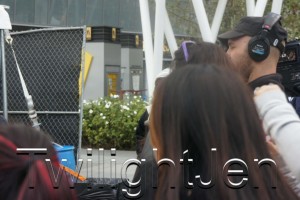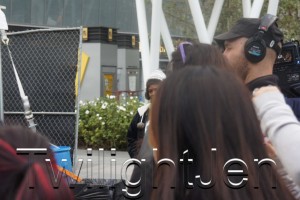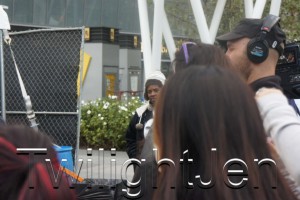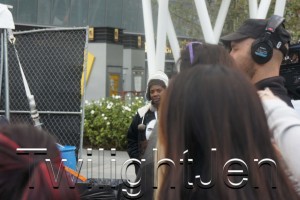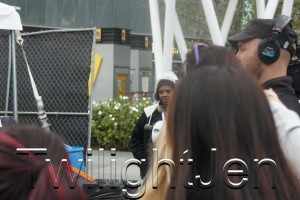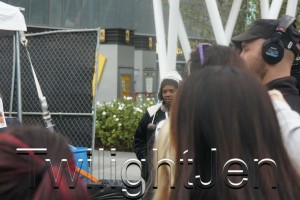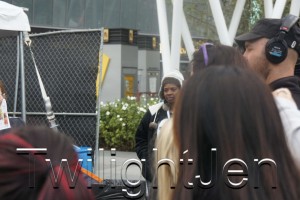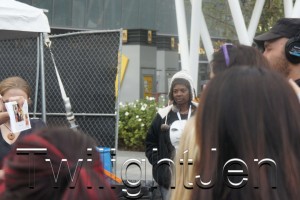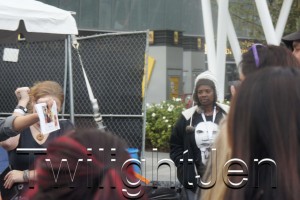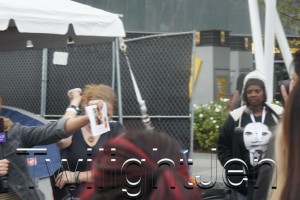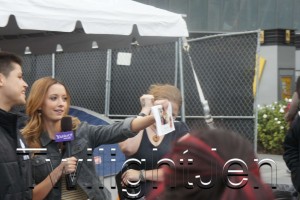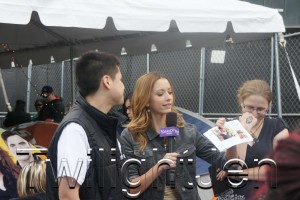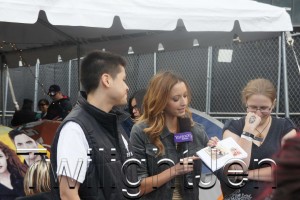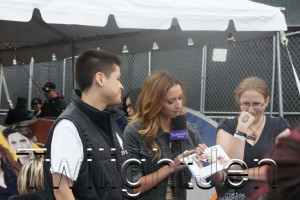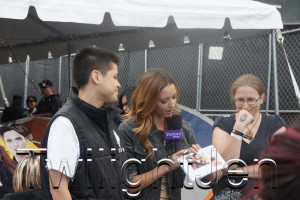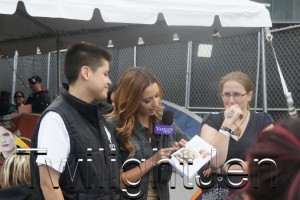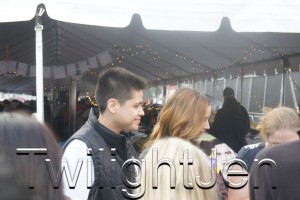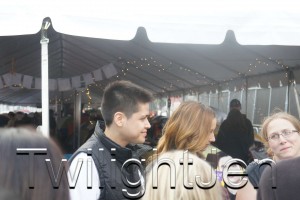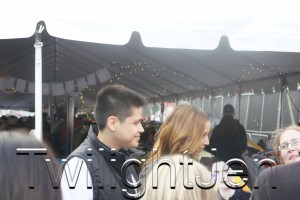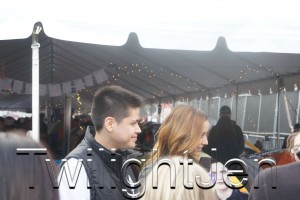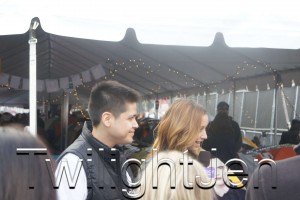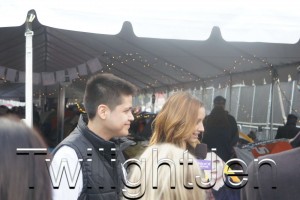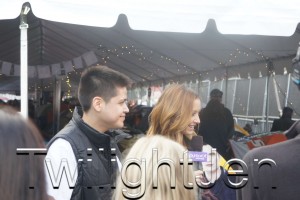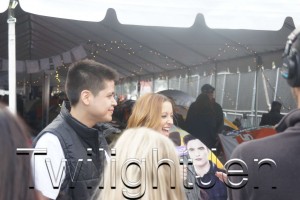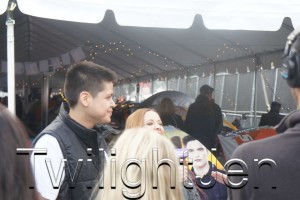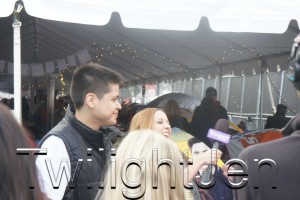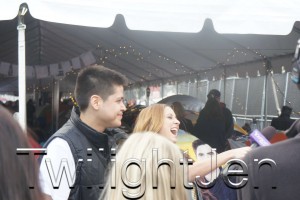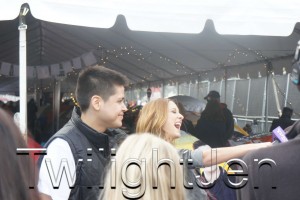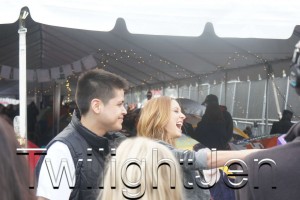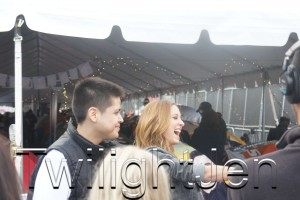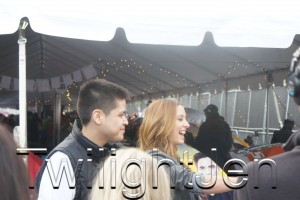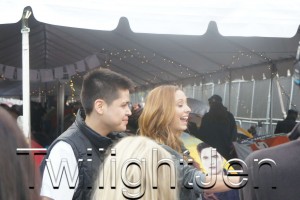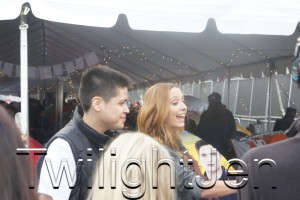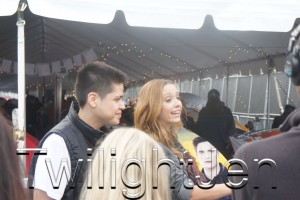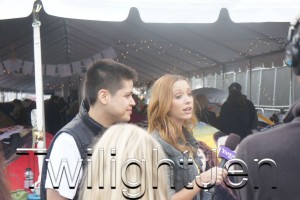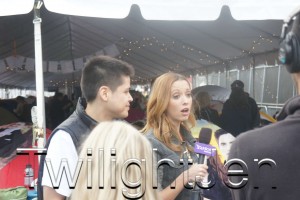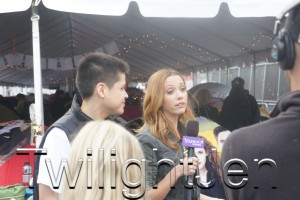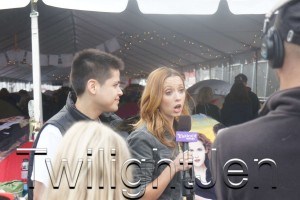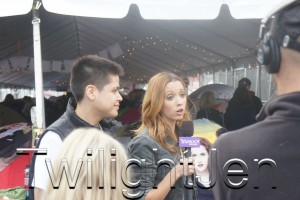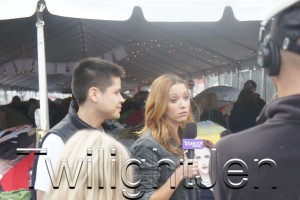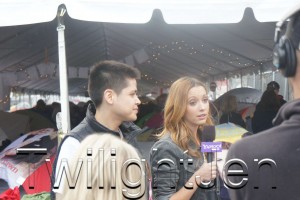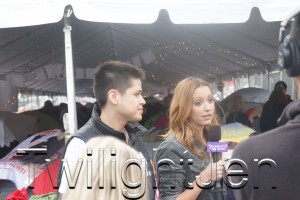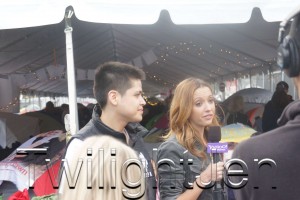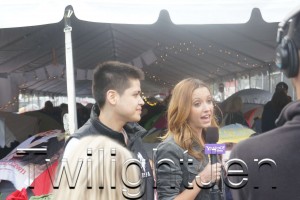 The reporter even showed off Brandon's photo he printed. Brandon did trivia
questions with the fans during the interview.
On Sunday Summit invited Brandon to participate in the TentCity Fan Breakfast. Brandon signed autographs with the other stars of Breaking Dawn Part 2. We went to Three of the Tent City camps.
We first started out inside Nokia to greet a few VIPs before heading out to TentCity. I also talked to a few of the Summit reps while there asking where is Brandon's conformation for the red carpet, movie and after party events. They said sure, sure, yeah yeah, email me. So I did with my fingers crossed.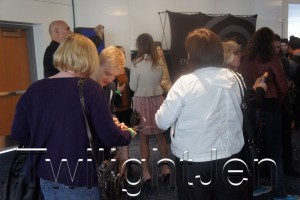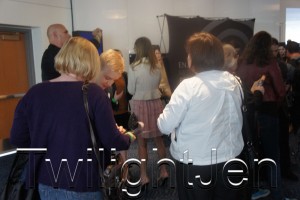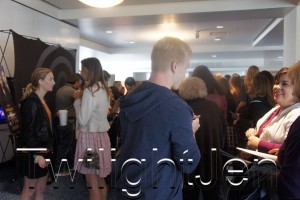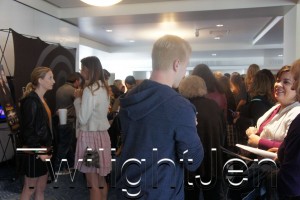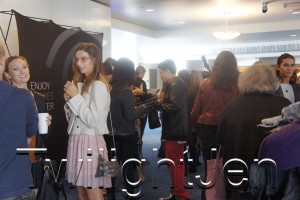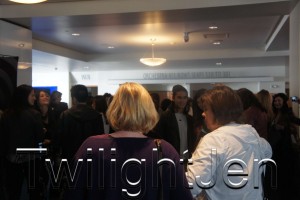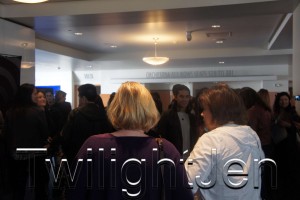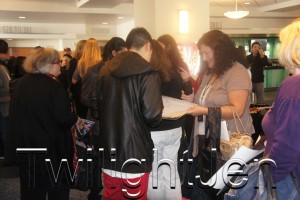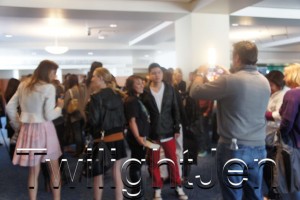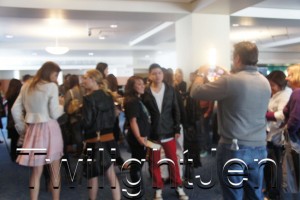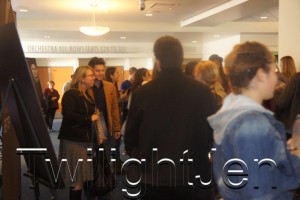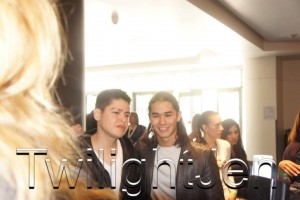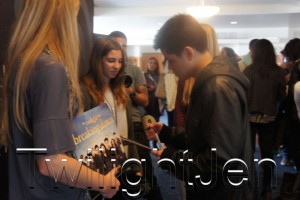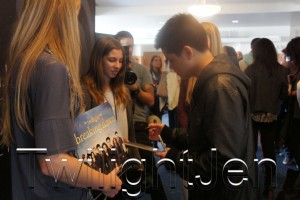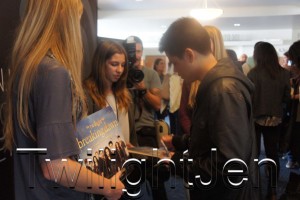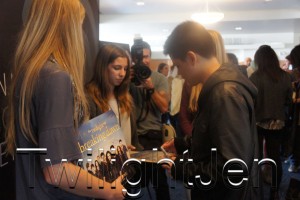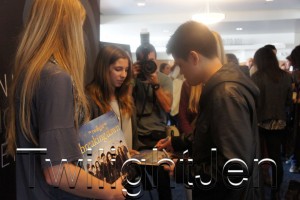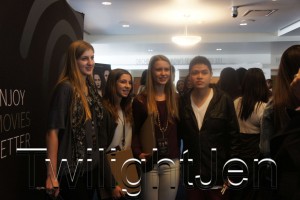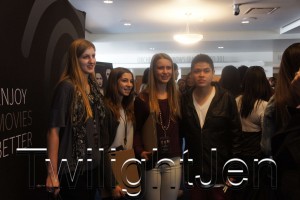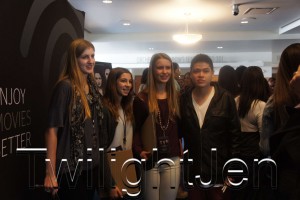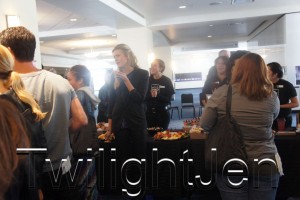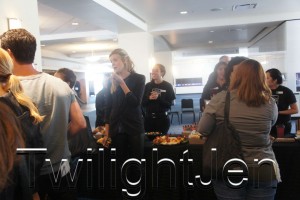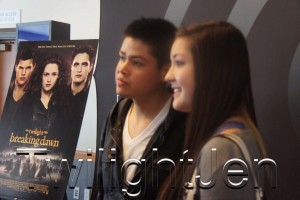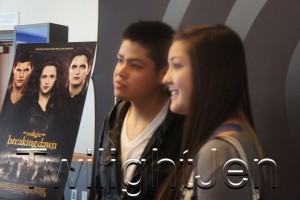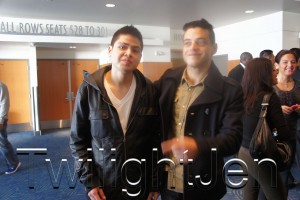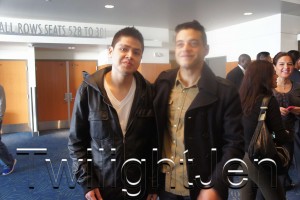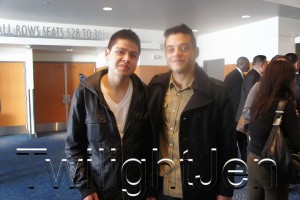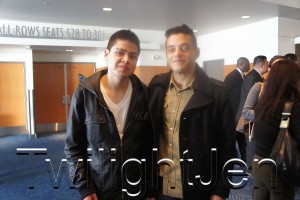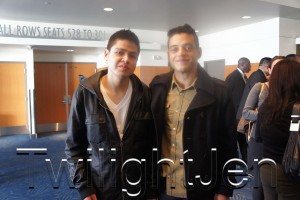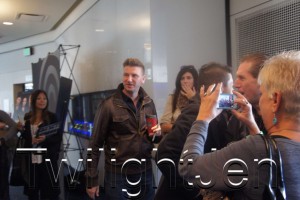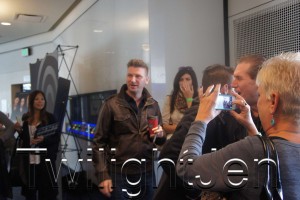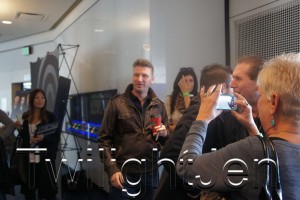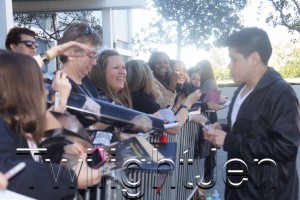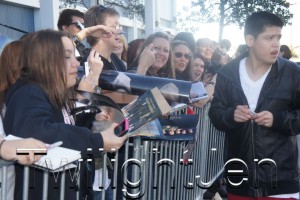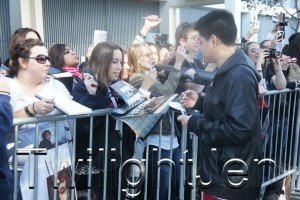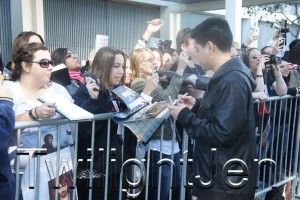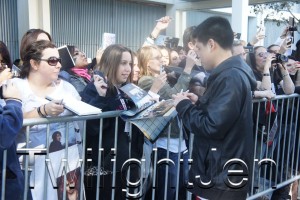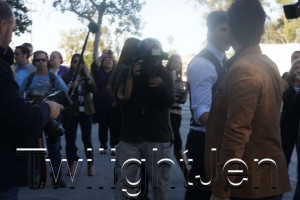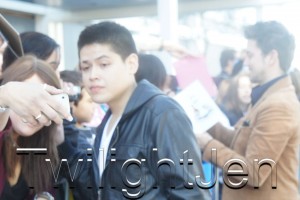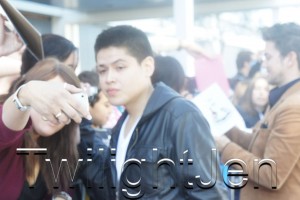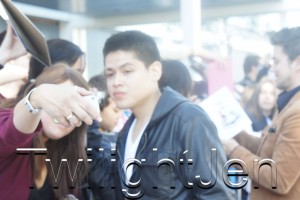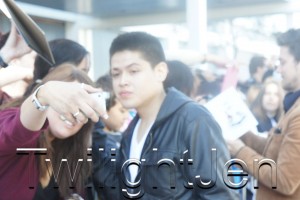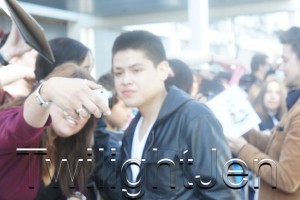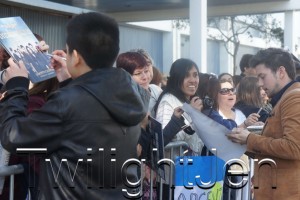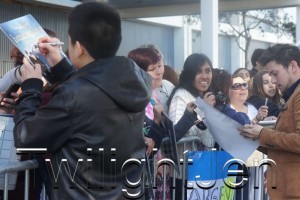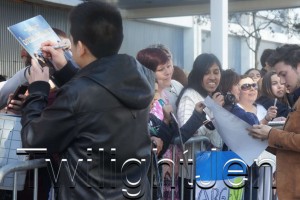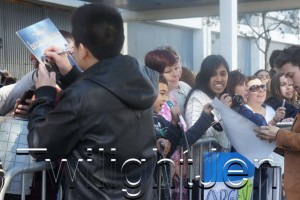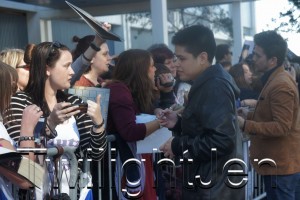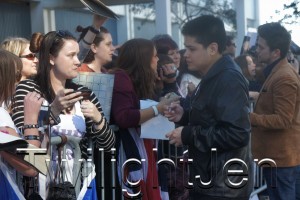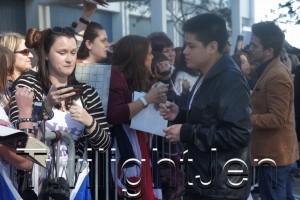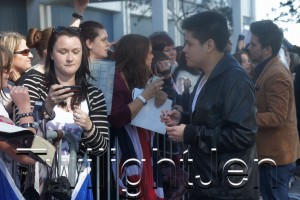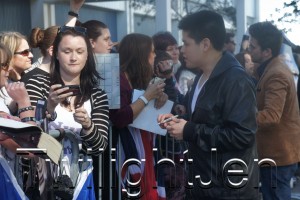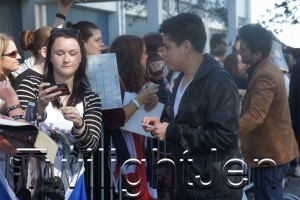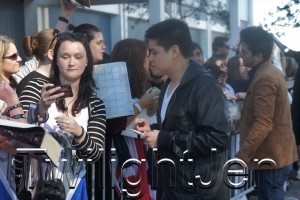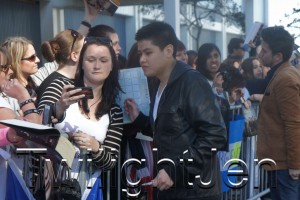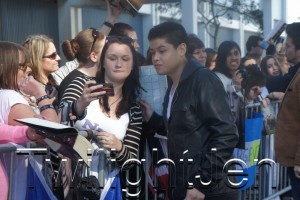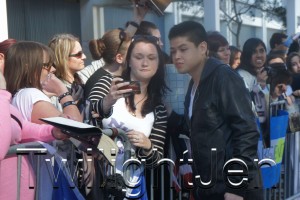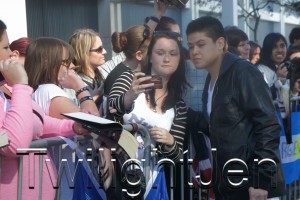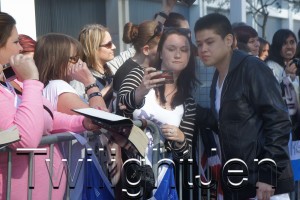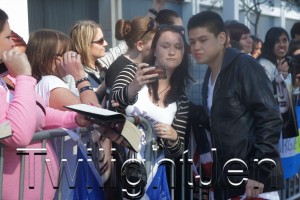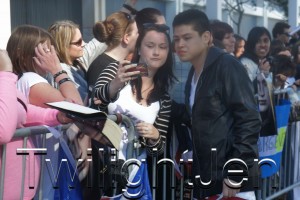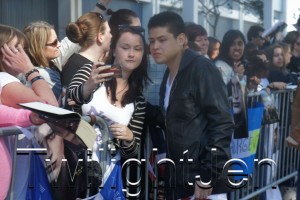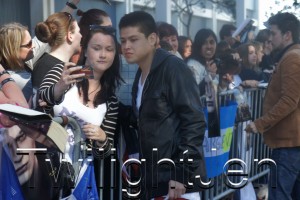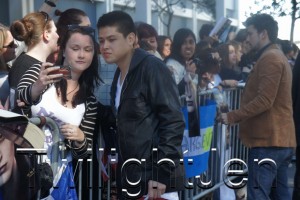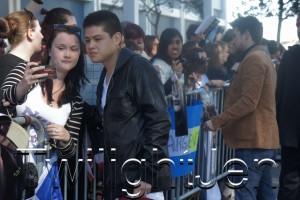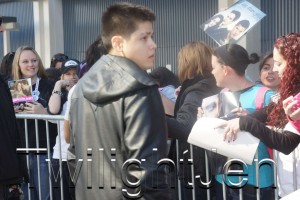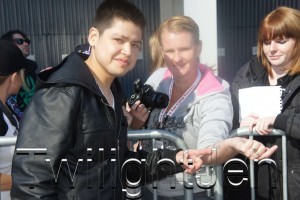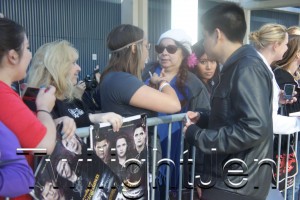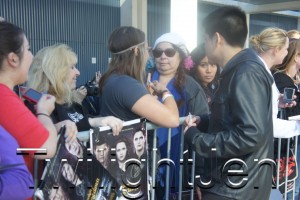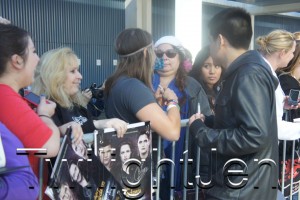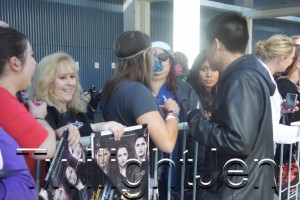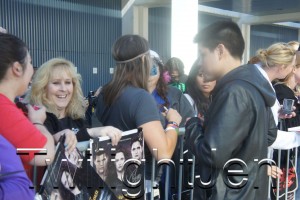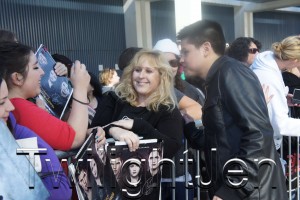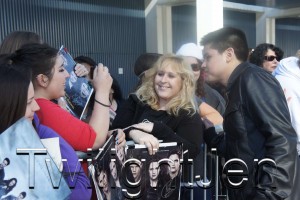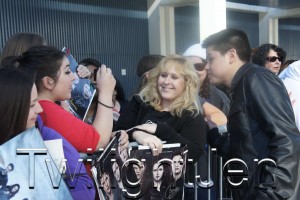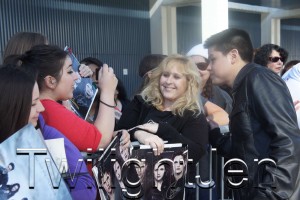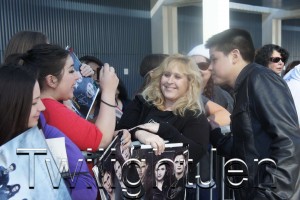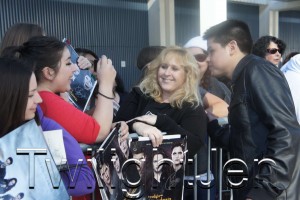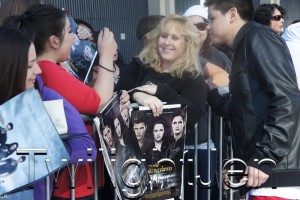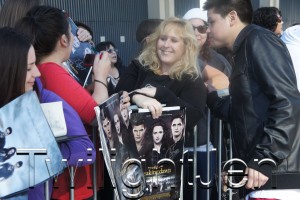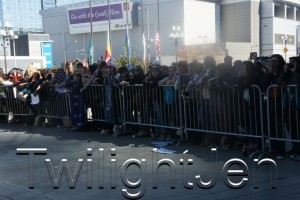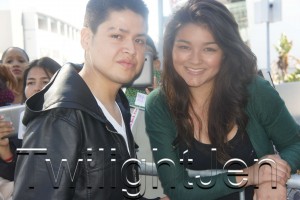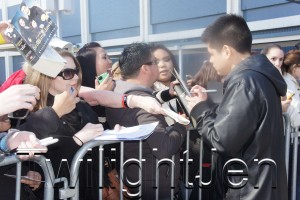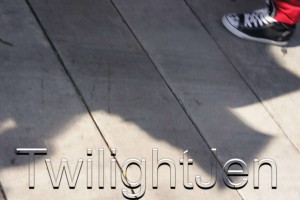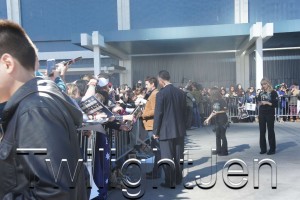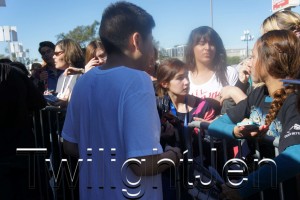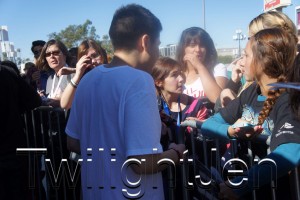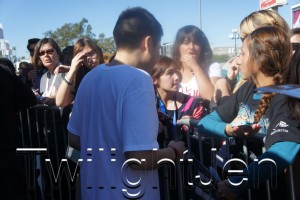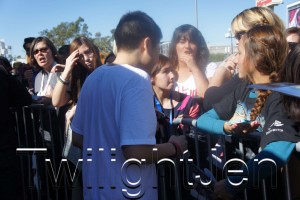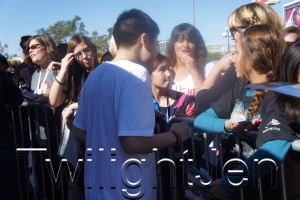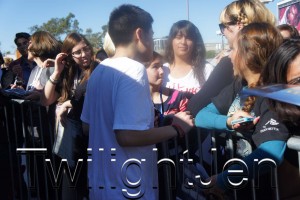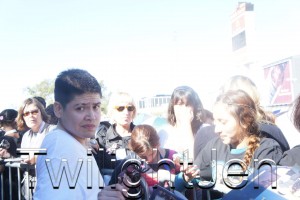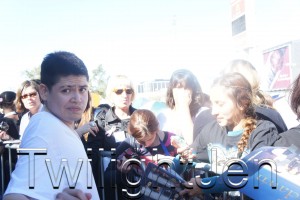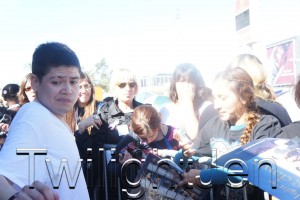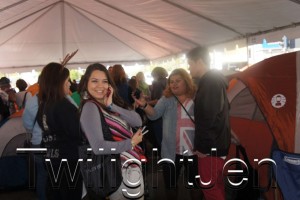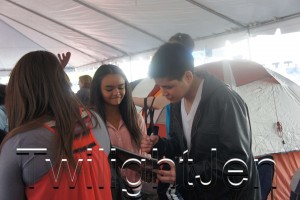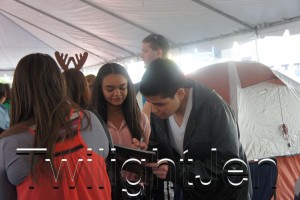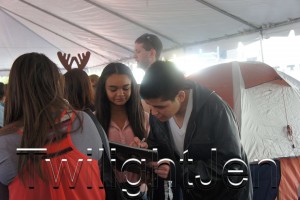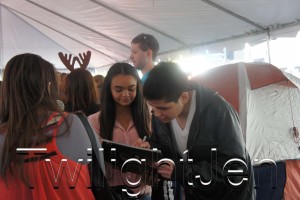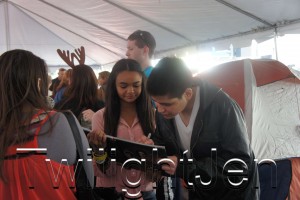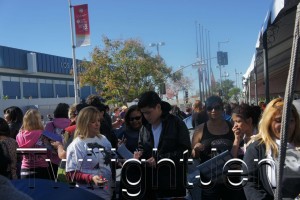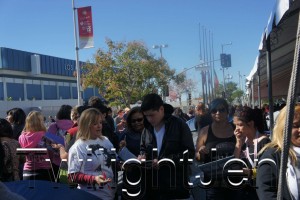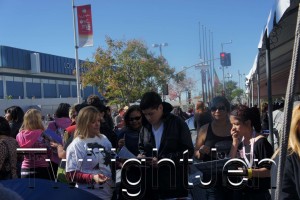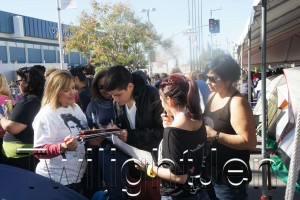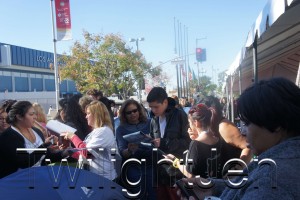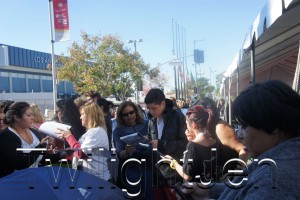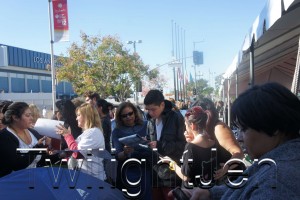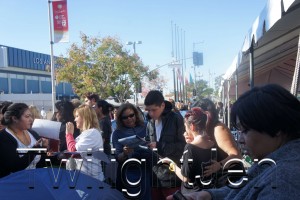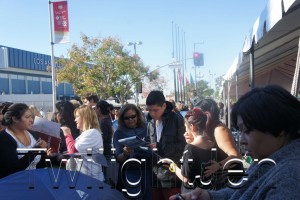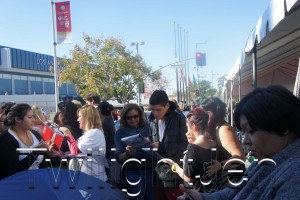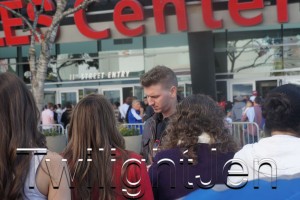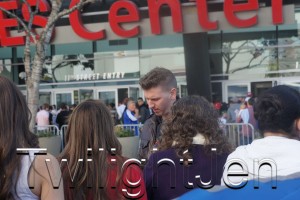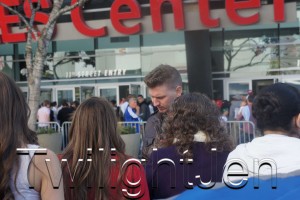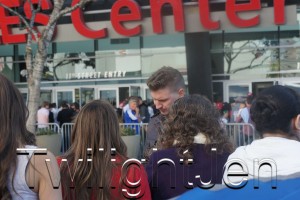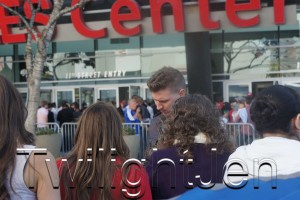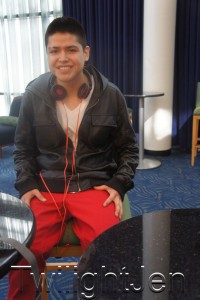 Back in the green room of Nokia after fan breakfast.
There is one photo above of a blonde lady and both Brandon and her are pointing to her arm, she is Brandon's first fan who is tattooing his autograph to her arm!! OMG
Monday arrives and I still haven't heard received conformation Summit's people if Brandon can walk the Black Carpet even though they said on Sunday that he could. I send Brandon off to the groomers and start texting and emailing my contacts.
I was never so happy to see an email before in my life, well maybe the one that said I could camp at tent city but this email means that an actors dream was coming true and I played a small part in it.
Even getting this email didn't mean that Brandon was able to walk the Black Carpet for the premiere, it only indicated that he could see the movie and go to the after party.
I had to negotiate his way on to the carpet once we arrived at the premiere!
Each one of these wristbands from this week posed problems, complications and was a challenge to obtain for myself and Brandon. But we did it!
I mostly take photos of Brandon and his interviewers so he can have the photos for memories.
Also Brandon and I took a few photos at the after party. I did manage to get him up to the riser platform where only the actors could go. We chatted with many of them there. Nikki's husband and Jackson talked in length with Brandon about his music.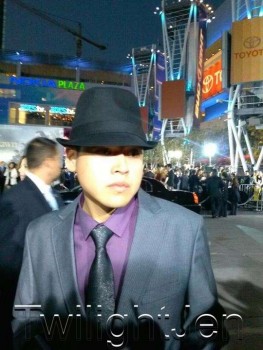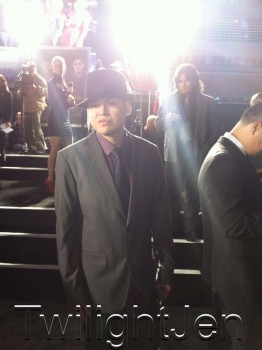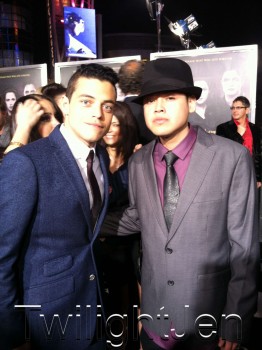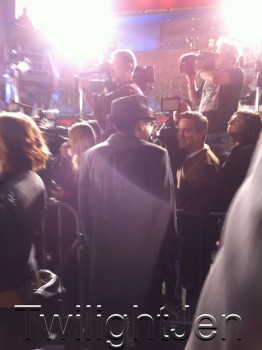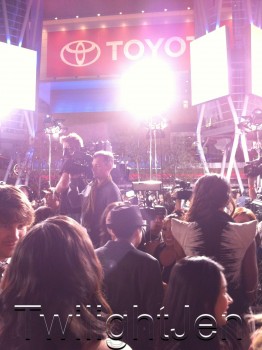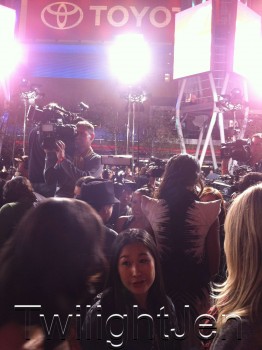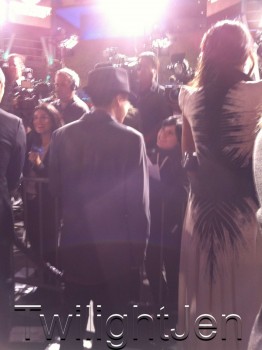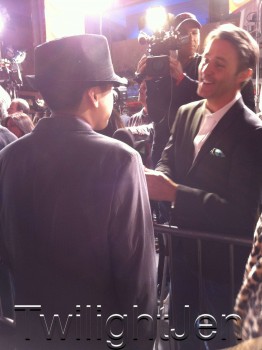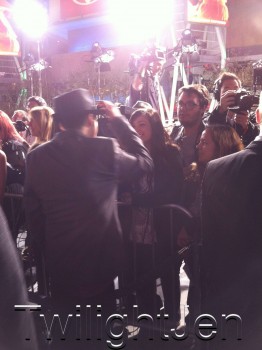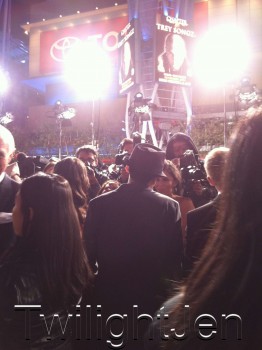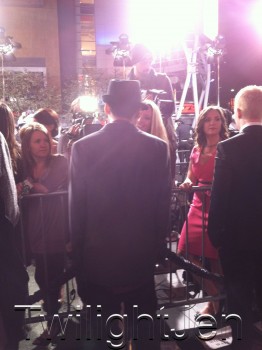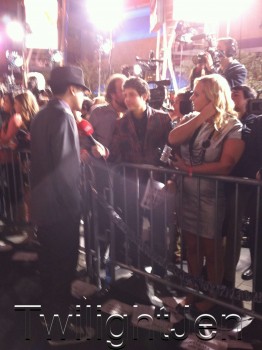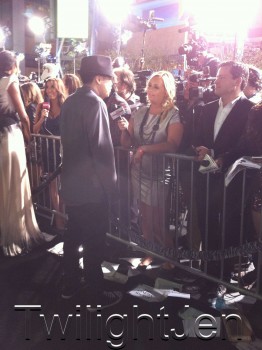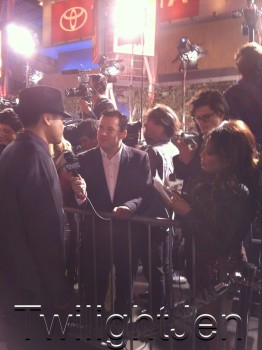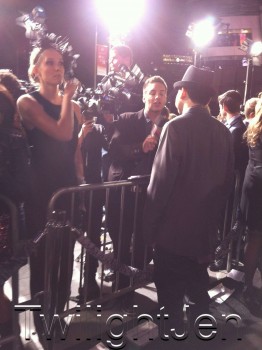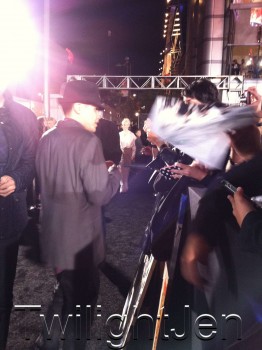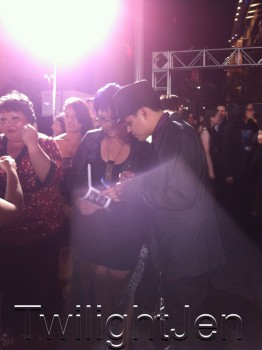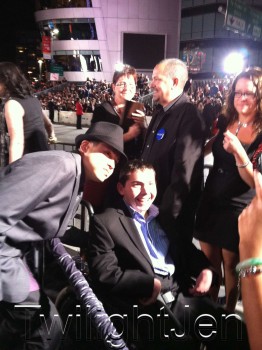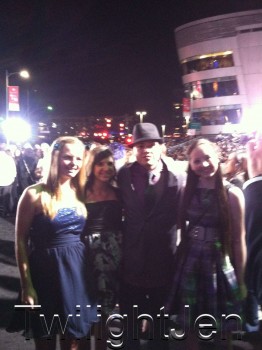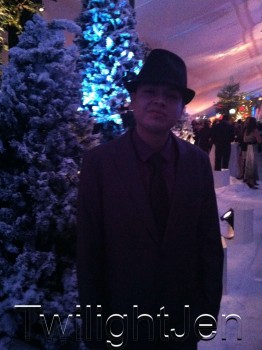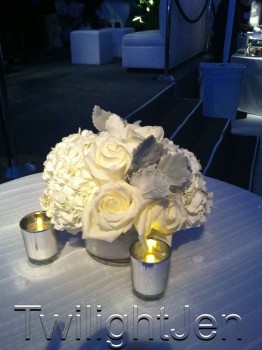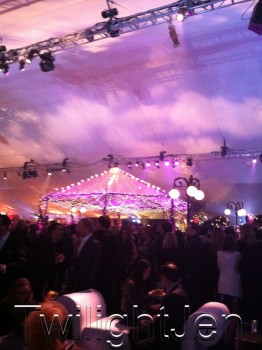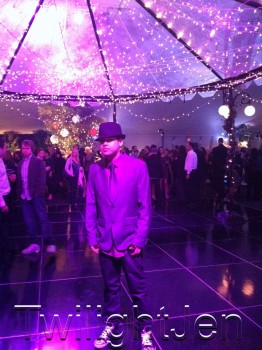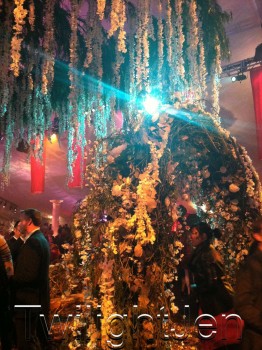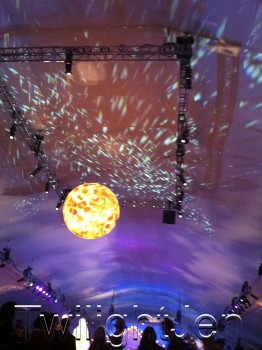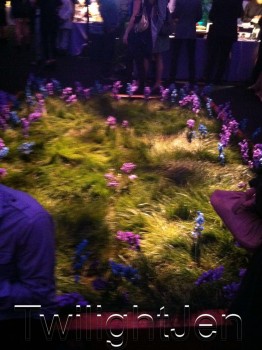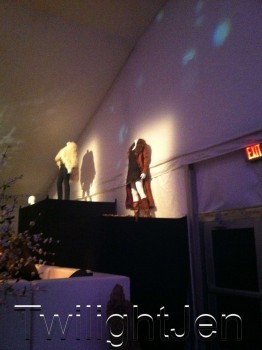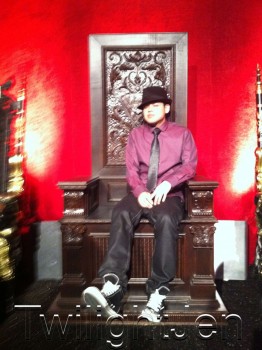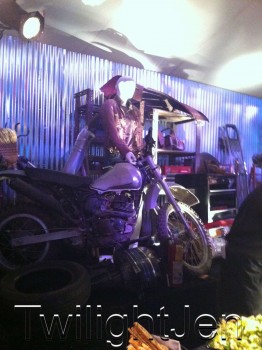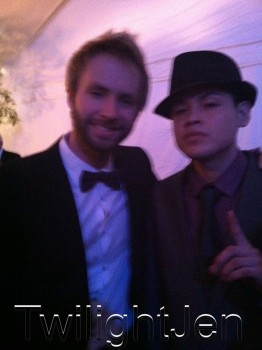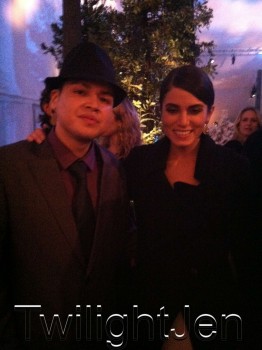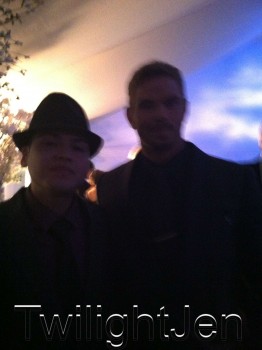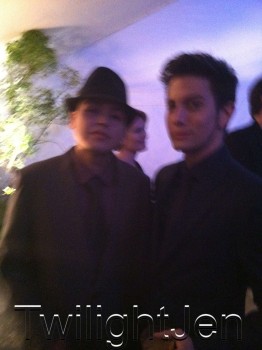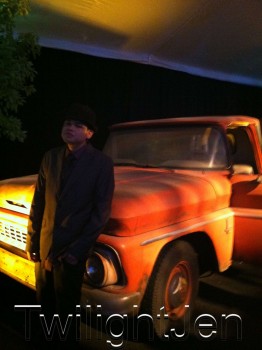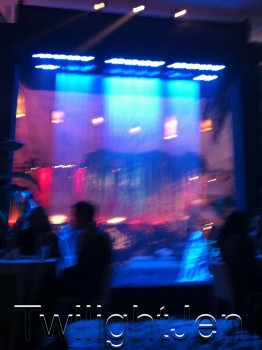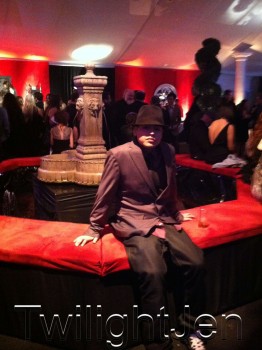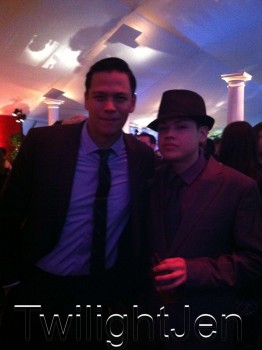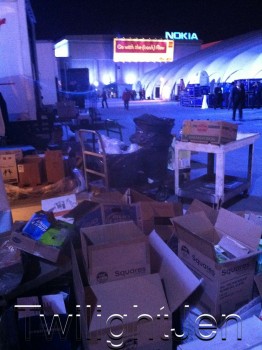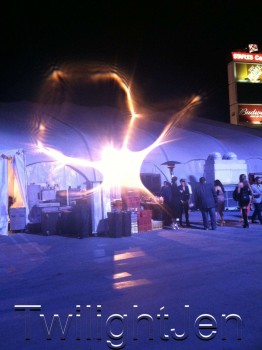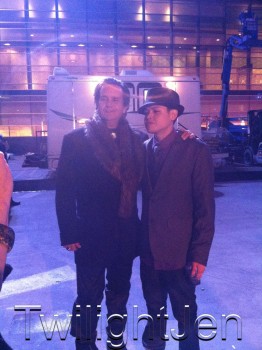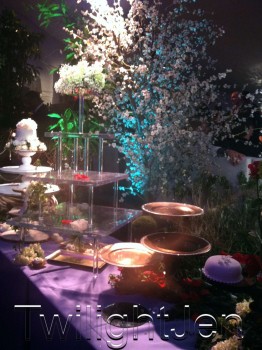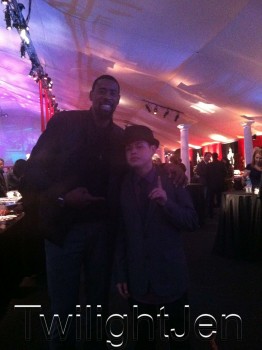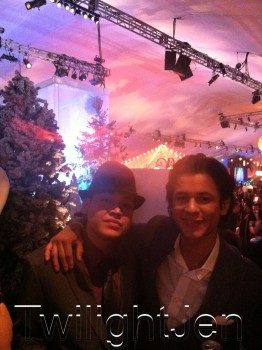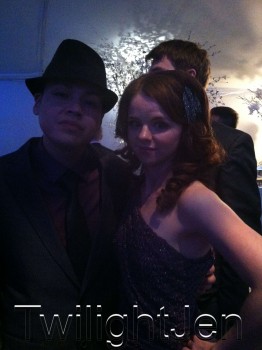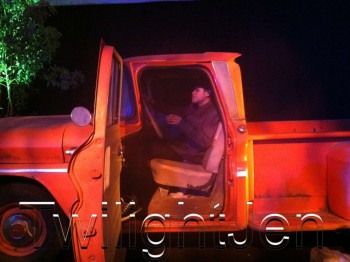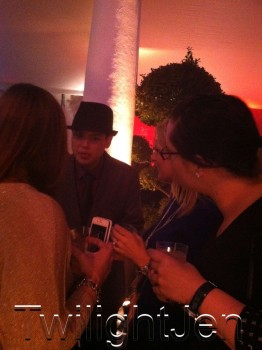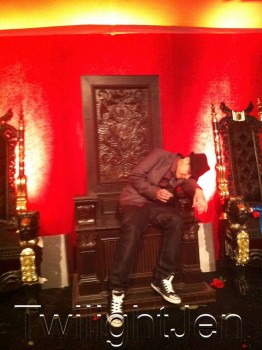 These guys below are the IT guys who did the CGI on Brandons wolf! How cool was it to meet these guys!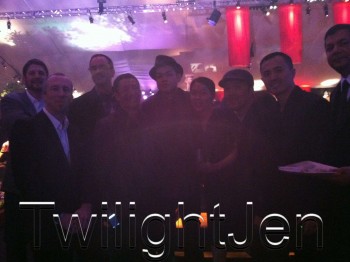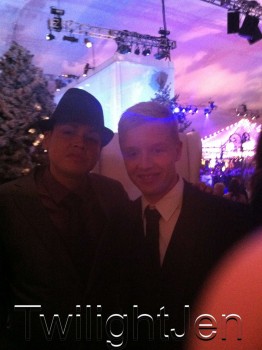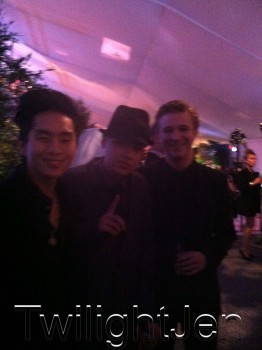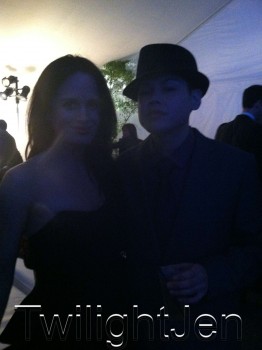 My Fan Camp experience was replaced with an Agent's job which was hard work. Very much like my day job, nursing and patient care but you have to meet the "right specialist" to get what you need.
It's an experience that I wouldn't trade for the world and I enjoyed helping the Wolf out. Thank you Brandon for the trust and opportunity to help you. You are family now, love momma Jen <3
Special thanks to
http://www.facebook.com/leilani.ware
for her photos of Brandon! Follow her blog!